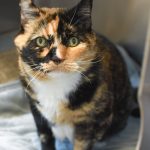 When we're young, songs choose us.
We are all indoctrinated into the Hokey Pokey and The Wheels on the Bus and all the cheese from the great animated dairy farm that is Disney.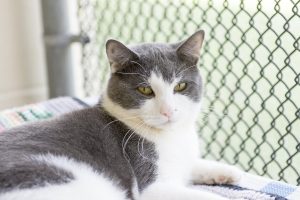 We get older, and music reaches out like enchanted vines along the path, lassoing our ankles and changing our lives.
The first concert with the person who became your life's song.
The favorite hymn belted out by your glory-bound Grandma.
The astounding lyrics that rose from public radio and hugged your spirit hard.
(Or, in my case, the soul-stirring classic my high school boyfriend triumphantly declared to be "our song:" Tub-Thumping by Chumbawamba. You will be astonished to hear that this relationship was not built to last.)
Cats and songs are close companions, each whiskered Wurlitzer a roving playlist of melodies and memories and secret chords.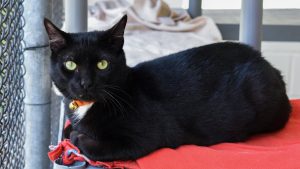 They all love Bruce Springsteen (this is too obvious to even state); they have violent altercations debating the superiority of the Beatles vs. the Rolling Stones (if you wondered why Wilbur is so prone to fits of rage, now you know); and any time five cats come together, they immediately begin figuring out which of them would be which Spice Girl (even though every single one except Pepperoni is, of course, Posh).
We sing to them — endlessly, obnoxiously, jubilantly, did I say obnoxiously? They listen. They make fun of us in their heads and after the lights go out.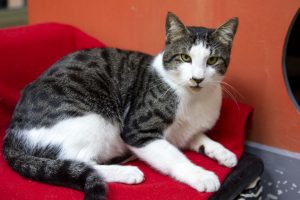 "If she sings 'Solidarity Forever' to me one more time, I'm going to do a seance to raise Pete Seeger from the dead and make him make her stop." — Bucca
"One more trip through the entire Les Miserables soundtrack, and I'm going to ask Jonathan to rename Suite B 'Les Miserables For Reals.'" —  Siesta
"I do kinda like when she sings 'Peace Train.'" — Mousy
"Shut up, Mousy." — Siesta
We assign them songs and symphonies and entire musicals, certain we've sussed them out and melodized them appropriately.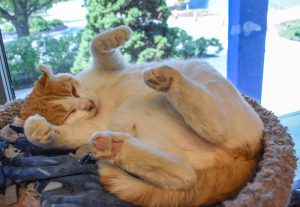 Betty is The B-52s.
Rose is every single princess song of longing.
Humphrey is Post Malone.
Mr. Thief and J'Happy are The Proclaimers. (Tell me their entire essence is not, and I quote, "Da da da [da da da] Da da da [da da da] Da Da Da Dun Diddle Un Diddle Un Diddle Uh Da Da.")
Pearl is Dolly Parton.
Hector, since losing his onesie, is that other "500 Miles," except technically in his case it's "5,652 Miles" ("Not a shirt on my back, not a penny to my name, Lord I can't go back-home this a-way.")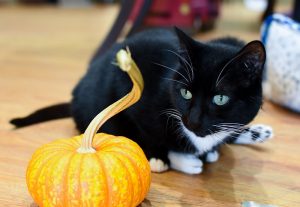 Luna is not throwing away her shot, nor her profound identification with Alexander Hamilton.
Anka is Black Sabbath plus Gogol Bordello multiplied by Celine Dion.
Olive is Laura Marling's "Strange Girl."
Olive is also Fiona Apple's entire catalog.
Verde is "I'm Every Woman."
Mishush is Billie Eilish.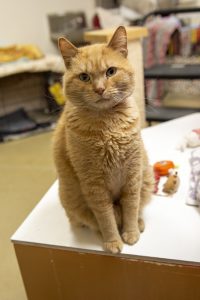 Every cat who ever lived is Santigold's "Can't Get Enough Of Myself."
Thurman is Captain Beefheart's "I'm Gonna Booglarize You, Baby."
Clarence is Old Crow Medicine Show.
Bellamy is the love child of bluegrass, zydeco, and tropicalia, with a smattering of yacht rock.
But don't take any of this on my word. In the exquisite words of the Avett Brothers, "even though I know there's hope in every morning song, I have to find that melody alone."
And so, at a certain age, cats — and the bravest humans — have to choose their own rhythms and rumbas, rests and rhapsodies.
We get too old or wise or wild or tired or fully alive to dance the assigned steps. We drop the needle and drop the mic and drop helplessly, hope-fully into what we truly are.
At least, we do if we're as fortunate as Astell.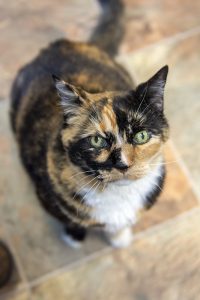 With a name that sounds like stars and a starfield of colors that could conduct the music of the spheres, Astell is a study in geriatric grace. Untethered from her owner at age sixteen, for reasons that can't be explained in two verses and a bridge, Astell came to us with honest eyes and a nervous gut and a heartbreaking habit of walking as though everything hurt.
She was tired.
She came into the Community Room to be greeted by the croons of buffoons, not to mention a dozen peculiar cats. We sang; she pondered. We offered her ill-fitting hats and harmonies; she waited. We treated her tum and her Bronze Age bones; she mended.
We sang some more. We chattered that, at sixteen, she's Tina Turner and Willie Nelson and Tony Bennett and Mavis Staples, but better. We told her she's still as beautiful as a far younger gal, and assumed she cared. We zinged around the room squealing that, if she plays her cards right and sings on key, she might, should, could, still even catch the right adopter's eye.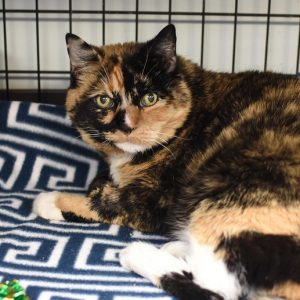 Finally, we listened.
We take entirely too long to listen.
But cats are nothing if not patient, and when we finally stopped flinging our frantic tunes into the sky, Astell gently lifted us beyond the stars.
Over the noisier layers of the atmosphere, out past the ozone of clatter and frenzy, there's a music that no longer attempts to prove anything.
Astell doesn't need to name her song.
Astell doesn't want to jimmy herself into the jam jar of a genre.
Astell isn't interested in impressing anyone — not even herself.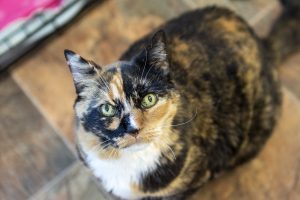 Astell, sixteen and shot through with Song Itself, has one concern: to be true to the lyrics whispered between cat and Creator.
To tell the truth about oneself, to oneself, with all of one's might, is to finally become music. If we listen — which we will and we won't, tone-deaf trudging treasured creatures that we are — we just might get borne above the buzzing by Astell's advice.
Which goes a little something like this. Let the record show, I think I'm going to adopt this as my personal life motto from this moment until I cross the veil. Thanks, Astell:
More Blog Posts