Back in 2014, a tiny tuxedo cat found herself parked in a perilous spot. Paralyzed, incontinent and alone, the kitten was stalled in a parking lot, short on friends and hope. Little Olive was barely able to move…but love was about to move mountains.
A passerby took compassion on Olive, and whisked her away from danger. Soon, Olive found safety with a uniquely patient foster family. Eventually, though, even these saintly souls were pressed to the limit. Olive needed a lasting haven.
Tabby's Place was just the sanctuary Olive needed. Having nurtured paraplegic cats like Bagheera, Tashi and Dot, our team knows how to keep such a special kitty healthy. We welcomed Olive into our care, our family…and most recently, our Lobby.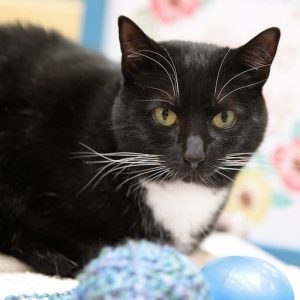 As a Lobby cat, Olive is one of the first furry faces visitors meet at Tabby's Place. Olive takes this responsibility seriously, waiting eagerly at the front door. When folks arrive, she gleefully shows off her speed, skittering through the Lobby by "paddling" with her strong front legs, her back legs flying in front of her all the while. Inevitably, visitors are amazed – and Olive is overjoyed. We couldn't imagine a finer ambassador for showing the value of Special Needs cats.
Olive reminds us of her priceless worth every day. A pallet of pimentos could never compete with our girl's zesty personality. Within a few minutes in Olive's presence, you nearly forget her disability in the face of her determined moves, funny meows, and fearless chatters at other cats.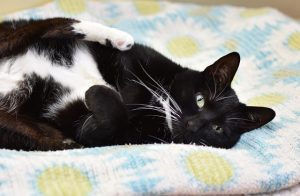 Since Olive is outrageously adorable, young, and full of fun, we believe she may be adopted. But, we realize it will take a heroically loving person to take our little girl home. In addition to her paraplegia, Olive is prone to diarrhea, which we treat with a prescription diet. We also help to keep her clean and comfortable by outfitting her in customized diapers and bathing her weekly, or more often as needed.
On top of her physical needs, Olive has a feisty streak, and she'll put up a spectacular fight during daily diaper-time!
But none of that makes us love her one iota less. (Honestly, we admire her unquenchable inner fire.) We're happy to be Olive's family for as long as she needs us. Please help to make that possible as her loving sponsor.
Adopt Olive
Start the application process now.