The Tabby's Place Guardian Angel Program offers you a means to ensure that your feline companions will be cared for at the time of your disability.  Under this program, you can be assured that your cats will gain immediate acceptance to the facility, where they will receive love and attention, high-quality medical care, and a peaceful, home-like environment.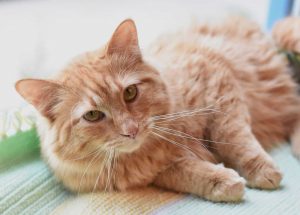 Lifestyle
Sanctuary residents live in spacious suites filled with toys, scratching posts, climbing ledges, and cubbies in which to sleep. In addition, cats can safely enjoy fresh air and sunshine in the outdoor solariums.  Feline residents receive daily play sessions and cuddle time from our devoted staff and volunteers.
While cats at Tabby's Place live contentedly, we believe the best outcome for the majority of our residents is to be adopted into loving families of their own.  We do our best to find ideal homes for our residents and perform diligent follow-up to ensure that the cats continue to be happy and healthy.  If the right match does not come along, each resident has a home for life at Tabby's Place.
Health Care
Upon being admitted to the Sanctuary, each feline's medical needs are assessed and tended to accordingly.  Our residents are given the best medical care possible.  We specialize in caring for older cats and cats with special needs, such as heart disease, cancer, or diabetes.  The only time we euthanize a cat is if it is suffering and there is no reasonable hope of recovery.  In those cases, the euthanasia is always performed lovingly and humanely.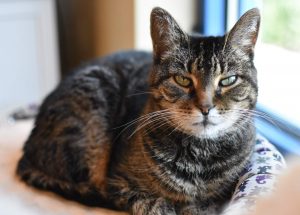 Admission and Fees
To be accepted into the Guardian Angel Program, cats must meet these requirements: (i) test negative for FeLV and FIV, and, (ii) be able to be examined without sedation.  (For cats who have been housed together, we may refuse the entire group of cats if any of the cats test positive for FeLV or FIV.)
The fee per cat is $15,000. This fee is not due until your cats actually come to Tabby's Place, so there is no initial payment required.  Note that lifetime care for many felines may exceed the required fee. Expenses not covered by your fee will be borne by Tabby's Place.  To receive a tour of the sanctuary or to discuss enrollment, please contact our Development Director, Angela Townsend, at at@tabbysplace.org or 908-237-5300 ext 235. We would be delighted to give you the grand tour of Tabby's Place and to answer any questions you may have.
Click here to download the Guardian Angel Program Enrollment Agreement and Terms & Conditions.