If you think Anka looks like a magical creature from a faraway land, you're right.
This phenomenally fluffy boy came to Tabby's Place all the way from Istanbul, Turkey, by way of some special Manhattan angels.
Five thousand miles from Tabby's Place, Anka was enjoying life in Istanbul until he was struck by a car. He suffered a devastating spinal injury. His rescuers selflessly provided for Anka to have surgery, but to no avail; the gentle, green-eyed cat was paralyzed.
But there were angels working for Anka on both sides of the Atlantic.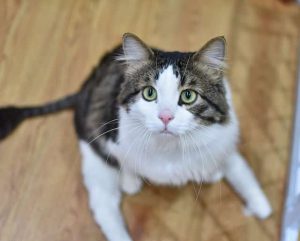 Anka's Turkish rescuers worked with the loving team at Animal Haven in Manhattan. After a flight across the sea, Anka received world-class care from a veterinary neurologist, who confirmed everyone's fears: he would never walk again.
Permanently paraplegic, Anka needed a sanctuary that could provide for all his medical needs — and give him a whole lifetime of love. And so, Anka's angels reached out to Tabby's Place.
Given our history of nurturing paraplegic cats, and through the spectacular generosity of Anka's angels, Tabby's Place was able to accept the Mediterranean marvel. Anka made one last trek from New York to little Ringoes, New Jersey. Now, his life of love at Tabby's Place has begun.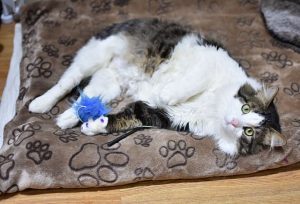 Like all his friends from Istanbul to the Big Apple, we are smitten with Anka. Everything about this brave boy is lavish, from his flowing mane to his gleeful affection to his massive, magnificent body.
Anka's magnificence has earned him a special role at Tabby's Place. He's one of our "Aged to Purrfection" cats, meaning he makes regular visits to local nursing homes. Aged to Purrfection cats are exceptional kitties, selected for the program on the basis of their gentleness with people, their confidence, and their knack for delivering joy. Our Aged to Purrfection kitties make their merry visits each week, on a rotating basis. Anka adores his visits to his elderly friends, who thrill at his affection.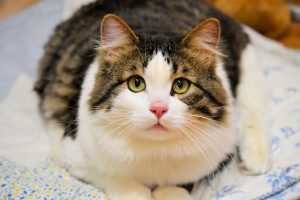 Alas, Anka is not quite so enchanting when it comes to his own species. When Anka first arrived at Tabby's Place, we expected that he would live in our Lobby, like fellow paraplegic Olive. But Anka quickly quashed that plan, ferociously beating up every other cat in sight. Behavioral medication and gentle human intervention did nothing to limit Anka's loathing of other cats.
And so, we created him his own large, open "bachelor pad" in the Lobby, with a tall gate to prevent him from attacking his neighbors. Despite this special accommodation, Anka will still reach through the bars of his "apartment" to swat and grab any cats who come too close! So, we have our big boy on behavioral medication, to mitigate his aggression a bit.
Like many paraplegic cats, Anka has proven prone to tummy troubles. So, to keep him "regular," we treat him with a prescription diet. He also takes a bladder relaxant (to aid us in expressing his bladder), and antibiotics as needed, since paraplegic cats are vulnerable to urinary tract infections.
Despite all this, Anka is such an extraordinary cat that we believe he may well be adopted. But, we know it will take an equally extraordinary family to provide for his needs. Anka is unable to use the litter box and needs to have his bladder and bowels expressed three times each day. Given his disability, he also requires more supervision than the average cat, to ensure he doesn't hurt himself.
Please become Anka's newest angel, and sign up to sponsor him today.
Adopt Anka
Start the application process now.