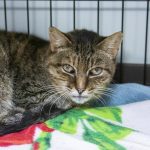 When I first met Samantha, it was because another volunteer asked me to.
The poor kitty was frightened, cowering in an open crate, and new to the community room. She needed friends, and it wasn't difficult to convince her that scratches and cooing are nice.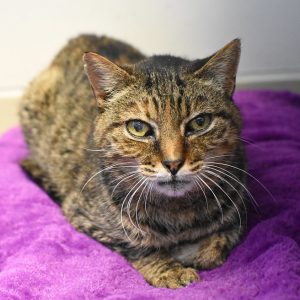 But, the next time I met Samantha, I had to remind her all over again. With each visit the time to go from nervous to nuzzly grew shorter.
The first time I met Wonton, he had just been assigned as one of my BFFs. He was curled up in a cube opposite Adam and 100% suspicious of my intentions. Our beloved Abey-baby (never gonna not miss him) helped with that interaction as well as some others. The last time I saw Wonton in person, he ran from my entrance into the solarium and set himself up in the same cube with Adam, snuggling that time. Once over the surprise, he was receptive to some cautious loving. Next time, I hope he'll remember anything about being a BFF.
The very first time I laid eyes on Beatty, he was so Beatty he made me laugh out loud. He had his Bing then, and they were unbelievably happy in the crate during their introduction to the Community Room…not as happy as out of that crate. With Beatty, every enrichment was pretty much the same in that he was always delightfully surprising and fun. And noisy. Lots of bag and tube rustling. Lots of Beatty.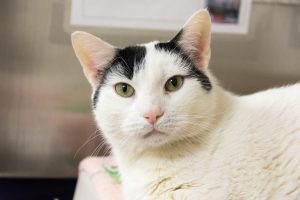 The day Angelo and I first met, he was crated in medical so some, to put it delicately, samples could be taken. After spending 40 minutes or so with Max, I had stopped to see who was around. Angelo would have had you believe we were already the oldest and bestest of friends. That's the heart of Angelo. He loves. His love is unconditional and constant. Angelo is also ridiculously adorable, sweet, and soft, and oh, those toe beans!
Firsts are so memorable and such a treasure in cases like these. I could go on for ages about all of my Tabby's Place firsts…first Comfort Buddy visit with Sherbet (rock the rainbow world, girl!) and Bear (leave some air!). First visit with Tagalog after her return. First time Hunts let me pet him. First time Carrot and I saw each other. First Pepita hug.
With recent news reminding me that on March 12, 2020 there were too many lasts, I'm counting the seconds, breaths, and heartbeats until the next round of firsts can begin.
More Blog Posts