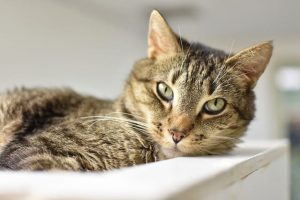 Adam was found at the tender age of 2½ weeks and bottle fed by a loving person, as his mother was not around.
Bottle babies have a reputation for being sweet and affectionate, and Adam is definitely both. They are also impulsive and can be a little bit clingy, because they didn't have Mom to teach them their manners. While Adam may be a bit naughty at times, he is so lovable and cute that he gets away with his silly behavior every time.
Adam loves to give kisses and always wants attention. He loves to get up on his back paws and give people hugs. Whenever you are in his presence, you can be sure you will be loved by Adam. He insists on it.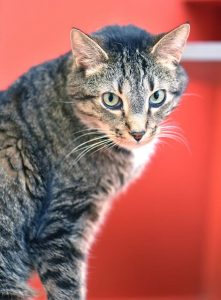 Our poor Adam is both fecal and urinary incontinent, which is why such an adorable, loving cat is still here. Adam's incontinence is almost surely due to several areas of spinal defects, which we believe he was born with. He also has a bit of a funny gait. To help keep Adam and his suite both comfortable and clean, our staff manually expresses his bladder three times each day. Adam is also bathed at least once a week.
Adam also requires a prescription diet, as he can be prone to both constipation and diarrhea. He's also on a steroid, an antibiotic that treats GI motility issues, and B12 injections.
In addition, Adam can be a bit domineering around other cats, perhaps because he spent so much time exclusively around people as a kitten. For this reason, he is on a behavioral medication to help limit his aggression towards his neighbors.
Unfortunately for Adam, all of this is not generally a recipe for a happy home in "people world." Adam would love to have that one special person to love, but for now he is very content being loved by all who grace the halls of Tabby's Place.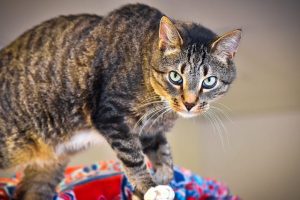 We adore Adam and are so happy to have him with us.  We are hopeful that the right person will come along and scoop up our tabby boy, but in the meantime, he is ours, and he is loved.  It will take a patient and skilled adopter to be able to help Adam with his needs. Until the right person comes along, he will be pampered and petted.  Your generous monthly sponsorship helps us to provide sweet Adam with the care, affection, and extra staff time that he needs and deserves.