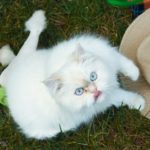 We're alive, you and me.
I thought you might need a reminder.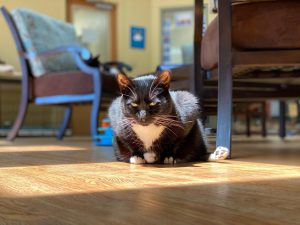 It's still very much summer in the Tabby's Place hemisphere, but some days, it seems a certain wintry feeling has set into our bones. This would be the "always winter, but never Christmas" variety, wearing and wearying and without much in the way of greenness or glory.
I don't need to tell you that this season of a syndrome of a year has been one long, infectious slog, spangled with sweetness but sloggish nevertheless. I'm reminded of both the sloggitude and the sweetness every time I creep back to Tabby's Place for a weekly visit.
Slog: the halls are quiet, and the (human) faces I cherish are half-veiled, topping towers of heroism that are too busy by half. (It's hard to run a 200-volunteer cat sanctuary with <10 people in the building at any given time.)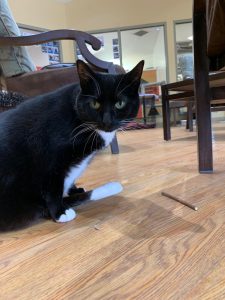 Sweetness: I can still see those smiles beneath the floral or hospital-blue or skull-smattered masks. Tabby's Place people know how to smile, even when the smile is a shouting middle finger at the state of reality.
Slog: Olive seems to have forgotten me. More to the peculiar point, she has remembered me incorrectly. Olive is notorious for only biting the ones she knows and loves the best, while lavishing relative strangers with violence-free affection. As perhaps the sole staff member who never does Mean Things(TM) to Olive, I have always been one of the lucky ones, treated like a guest rather than a piece of meat jerky. But on my most recent furtive visit back to Tabby's Place, Olive bit me repeatedly.
Sweetness: Olive is still here, still very much herself, still claiming the prerogative to change and grow and bite.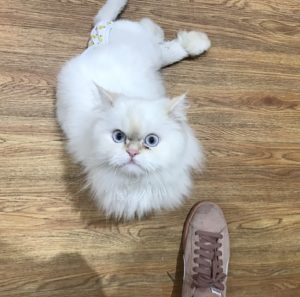 Slog: Cotton is clearly bored. It's not that there aren't enough toys, or hugs, or happenings (Hobo and Coco have both recently debuted in the lobby, which is thrilling beyond all measure). But it's hard to be a superstar under lockdown, with the roaring audiences of old now reduced to a handful of heartfelt fans. This is my only explanation for the way Cotton barrelled behind me into the stationery closet, spinning like a wild-haired top and rubbing his rotund little body all over the envelope boxes.
Sweetness: Cotton still knows how to have fun. Exhibit A: eating print copies of our newsletter. Don't knock it 'til you've tried it.
Slog: Conversations are somewhat constricted these days, and not just because mouths have gone into hiding. It's honestly hard to catch up with each other in the old, easy ways of daily lunches (O to hear Jonathan's bizarre, inappropriate international accents telling terrible, wonderful jokes every day at 1:30!). The topic almost immediately turns to pestilence, revolution and The General State Of The World. It's enough to make a girl miss musings about cat diarrhea.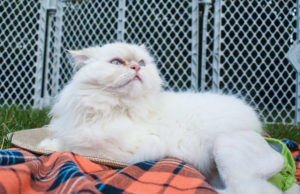 Sweetness: Conversations about cat diarrhea have by no means ceased entirely. You should see the Tabby's Place staff group text message thread. We're talking a good 22% diarrhea-devoted material, kittens.
Slog: This is all more than just a virus. When we're most honest, we're coming to grips with the fact that we have a very loose grip on anything. Our control, our forces of prediction, and all of our best and battiest technologies didn't prevent the entire world from spinning upside-down. We're still spinning, with no end in sight. Even those of us who were cottagecore decades before someone called it "cottagecore" are sighing for hobbit holes and ivied bungalows and Narnian escapes with extra wistfulness these days.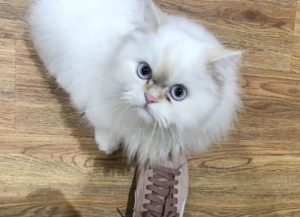 Sweetness that strikes down all sloggitude: You're still here, and so are we. The future seems howlingly uncertain, but humans and cats have survived such shadowlands before. We are not the first to wade through a prolonged season of strangeness; we will not be the last.
And this will not be the last of us.
Today, I hug you across the swamps and the slogs, and I thank you for reminding me of the light that outlasts all. Slog onward bravely, beloveds.
Now I need to go attend to some cat diarrhea.
More Blog Posts