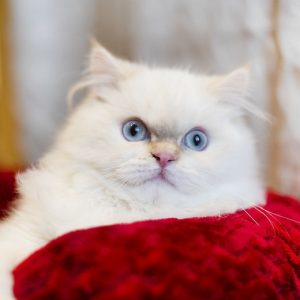 Soft as a cloud, Cotton hopes you'll wrap him in your love. Although he looks like a fairy-tale character, this little puff's story was nearly a tragedy.
Cotton was born 5,700 miles from Tabby's Place, in Lebanon. Sadly, a carefree kittenhood was not in the cards for the cutest of all kittens. Sometime in his earliest days, Cotton fell from a balcony, resulting in injuries that left him paralyzed, incontinent, and without his back feet. It looked as though the fabric of his life would be cut short.
But a warm blanket of kindness swaddled Cotton in his hour of need. Selfless rescuers scooped him up and promised him a future and a hope. In the midst of their own indescribable hardships, these earthly angels devoted themselves to finding a haven for the wounded kitten.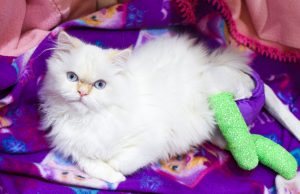 That would be a tall order. Conditions in the country were unstable at best, and his rescuers lacked the resources to properly care for Cotton's many needs. But who would take on a youngster with such a tapestry of troubles? Cotton would need a lifetime of costly care, and few shelters on either side of the Atlantic are able to embrace such a cat, even if he is sweeter than cotton candy.
Far across the ocean, Tabby's Place has specialized in "tall orders" since 2003. Cotton was a natural fit for the fabric of our sanctuary, where we embrace cats from the most hopeless situations. And so, two flights and many logistics later, the peachy Persian kitten was stitched into the Tabby's Place family.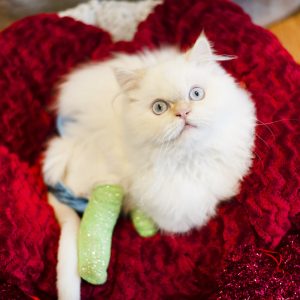 It would be the understatement of the century to say that we've cottoned to Cotton. We're enchanted, smitten, snockered and swooning over his unsinkable sweetness and endless energy. When he's not playing like a wild-eyed, wild-haired madman, cheerful Cotton is purring in warm arms. This baby boy's rumble is lion-sized, and so is his brave, joyful heart.
Cotton doesn't feel even a stitch of self-pity, and he certainly doesn't let his disability slow him down. But, there's no denying that his needs are formidable. Cotton's injuries left him with "stumpy" short back legs, which are prone to constant re-injury as he pulls himself along with his strong front legs. We're attempting to keep his back legs wrapped in "leggings," protecting them from abrasion. But, if Cotton doesn't tolerate these little "pants," he may need to have his rear legs amputated in the future.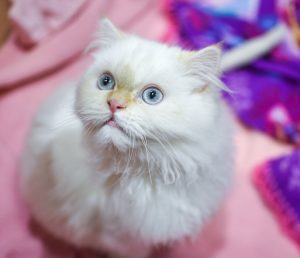 Our power puff also requires a high level of daily care. Since he's unable to fully empty his own bladder, our staff gently expresses Cotton's bladder and bowels two to three times a day. In between, Cotton wears a (ridiculously adorable) diaper. He also requires a prescription diet to keep his gastrointestinal tract healthy. Since Cotton has limited mobility, he's one of our "community cats," living in the Tabby's Place Lobby, where he delights in all-day attention from staff, volunteers and visitors.
Cotton is such a charmer that we're confident his blue eyes will gaze upon their own forever home someday. In the meantime, it's the honor of a lifetime to be Cotton's family at Tabby's Place. You can help to swaddle this sweetie in safety and love by becoming his sponsor today. Please weave Cotton into the fabric of your life!