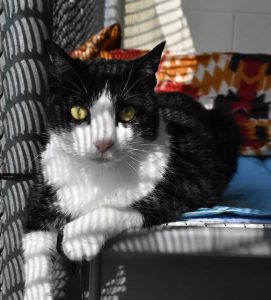 A website of name meanings proclaims:
"Pepita" seeks all that is genuine and true. She needs to be loved and to love, but without overly exaggerated gestures and declarations, thank you very much.
We could not have said it better!
The first time you see Pepita, she'll likely be perched up high in her suite. From that birds' eye view, Pepita surveys both the Lobby kitties through her picture window, and the goings-on of her rambunctious suitemates. A pure white fur "necklace" frames an incredibly sweet face as she waits patiently for you to approach. This kitty is calm and confident in her knowledge that those who enter her world won't be able to resist her charm.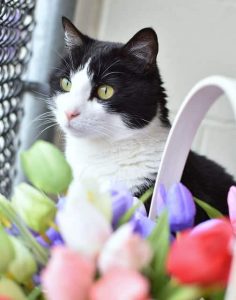 It's easy to be fooled into thinking Pepita is an introvert and a bit shy — that is, until you bring out her little green mouse.  Magically, that cute little introvert becomes a booming extrovert at play. The energetic kitten in Pepita comes out, and you'd better be ready for some action.
Pepita's sweet demeanor gives no hint that, sometime in her life, she suffered a spinal injury, causing urinary and fecal incontinence. Pepita is unable to fully empty her bladder, so our staff must gently express her bladder three times a day. We bathe her at least once a week, to help keep her clean and comfortable.
In addition, Pepita receives a cranberry supplement to help prevent urinary tract infections, to which she's prone. We also treat her with a gastrointestinal motility drug, to help with her occasional constipation. Pepita enjoys a prescription diet to help keep her "regular."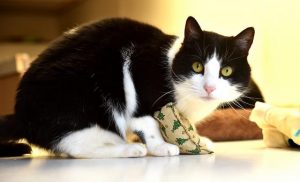 Through all this poking and prodding, Pepita harbors no rancor toward humans.  Sweet pumpkin that she is, Pepita loves to interact with people. It's as if, deep inside, she knows that a remarkable love-fest is hers at Tabby's Place.
We know it will take a very special adopter to offer Pepita her forever home. Until that happy day, you can help give Pepita a long life filled with love and green-mouse playtime. Your generosity will help to keep this beautiful girl a precious part of the Tabby's Place family for as long as she needs us.
Adopt Pepita
Start the application process now.