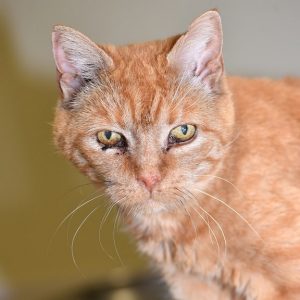 As I type this, I am looking at a photo of my dear Sherbet and missing her terribly.  The decision to let her go was  particularly agonizing due to Sherbs' amazing spirit.
Despite her precipitous decline over the last few weeks, she was determined to "enjoy every sandwich."  While she slept more and walking was becoming increasingly difficult, she continued to enjoy the things she loved most: human attention, food and Stafford.
Each day when I left, I wondered if I would see her again.  But the next morning, she would stand up when I entered and come over for some scritches.  I was amazed by her stoic attitude.  She seemed impossibly fragile, yet she was incredibly strong.  No complaining.  No feeling sorry for herself.  Just continuing to live.
I envied her approach to death and wondered if I can face the inevitable with as much grace as Sherbet.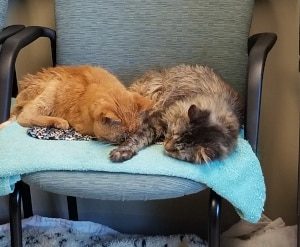 Sherbet was a wonderful office mate.  She was unassuming, undemanding and tolerant.  She suffered several tough female cohabitants over the years who took "all the oxygen in the room." I am glad that these "Amazons" were followed by a string of gentle males who Sherbet was able to bond with and draw comfort from.
She was so weak … and yet so strong.  Her quiet presence was huge and the void is palpable.
Rest in peace, sweet Sherbet.  I hope to see you again.
Your correspondent,
Jonathan
---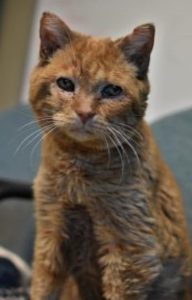 Note: Since dear Sherbet has passed away, we have transferred your sponsorship to another cat in need: Sherbs' roommate Stafford. You can read about Stafford here, and look forward to receiving your first update on him later this week.
If you prefer, you can select a different Special Needs cat to sponsor. Click here to meet all our Special Needs cats, and contact us by email if you'd like to transfer your sponsorship. Otherwise, you will receive updates on Stafford each month going forward. As always, your generous support will go where it's most needed.
Thank you for your love and beautiful generosity to Sherbet. The Tabby's Place cats are deeply fortunate to have you in their lives.