When I left the office Monday, I was not sure Sherbet would still be with us when I returned on Wednesday.  I kept my phone close in case I received "the call."  No bad news…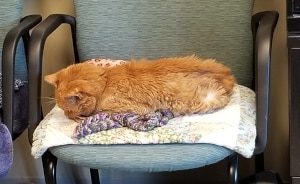 Sherbs is incredibly fragile and continues to lose weight, despite a healthy appetite.  She sleeps more than usual, but continues to appreciate attention and hangs with Stafford.
She is so frail, but she apparently still wants to be here.  We support her as best as we can: subcutaneous fluids, a few necessary medications, lots of food and attention.
Keep a good thought for dear Sherbotznick (my latest, stupid nickname for her).  We are day to day at this point.
Your correspondent,
Jonathan