Stafford is a lover, not a fighter.
This sweet boy was rescued by a Good Samaritan, who saw beyond his scruffy exterior and recognized the friendly tabby for what he was–a distinguished gentleman who had fallen on hard times. Stafford presented himself in her backyard, congested, flea-infested, and nursing a bite wound. Whether the unfortunate result of that particular wound or a previous losing brawl, Stafford was also FIV+.
A non-fatal but incurable condition, FIV disables a cat's white blood cells, making him more vulnerable to infections. FIV+ cats can live long, happy lives. (One FIV+ Tabby's Place resident reached the ripe old age of 22.) But, in the eyes of some veterinarians – and most public shelters – a positive FIV test is a death sentence.
Stafford's rescuer was not about to give up on such a gentle soul, and she reached out to Tabby's Place for help. Fortunately, we had a space in our FIV suite, and we welcomed him with open arms.
Stafford arrived with ringworm and severe congestion. When the congestion did not respond to any of the standard medications, he went for a specialty consultation. Stafford had a severe nasal stricture that had to be opened. He recovered well from surgery and is now on a low steroid dose to keep inflammation at bay. Stafford has also become diabetic and now receives daily insulin injections.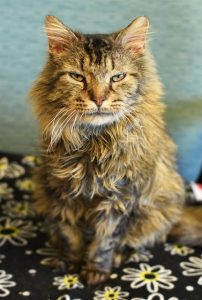 But none of these trials dampen Stafford's charming spirit. He is determined to befriend all whom he encounters, humans and felines alike. Eventually his charm earned him a promotion of sorts. Today Stafford is one of two lucky FIV+ kitties who share an office with our executive director. Stafford is frequently seen snuggling with roommate, Sherbet.
Stafford's sweet and gentle nature has earned him other privileges at Tabby's Place. Our handsome boy is one of our "Aged to Purrfection" cats, meaning he makes regular visits to local nursing homes. Aged to Purrfection cats are exceptional kitties, selected for the program on the basis of their gentleness with people, their confidence, and their knack for delivering joy. Our Aged to Purrfection kitties are certified therapy animals and make their merry visits each week, on a rotating basis.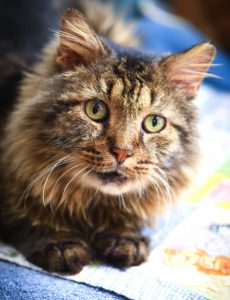 Stafford enjoys getting out of the office to share his goodwill with those in need of cheer. In fact, Stafford is so good at his mission that he even won over a disengaged resident by simply hopping into his lap and settling in for an extended pet.
We understand that Stafford's medical care might be overwhelming for most adopters, so we are happy to have him share his love from his home base here at Tabby's Place. If Stafford has stolen your heart, please become his sponsor. Your monthly donation will help us keep him in good health so he can continue to warm the souls of all he meets.