Beyond all expectations, Sherbs is still with us. Two weeks ago, I was leaving on Monday night, and Sherbs looked very weak and more fragile than usual. Tuesday is a day off for me, and I anticipated a call saying it was time to let Sherbs go.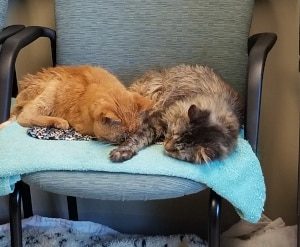 But, Tuesday came and went with no call. On Wednesday, she looked as if no time had passed. She was still weak, but her appetite was great, and she was still climbing onto the chairs and appreciating affection.  I noticed that Stafford was less inclined to seek her out for snuggling, but he was still up for a cuddle if she initiated it.
I am amazed by her resilience.  I left for a few days vacation last week and thought she might not be there when I returned.  Wrong again.
She is sleeping a lot and having some trouble maintaining body temperature.  We gave her a large heating mat, warmed by water, which eliminates hot spots.  She is lying on that mat (covered by a blanket) in the photo below.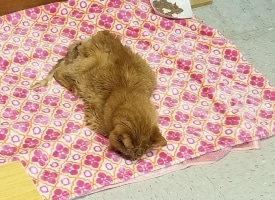 I try to treasure each moment with her, petting her when she gets up and giving her treats frequently, which she eats with particular gusto.
I hope I can approach the end of my life as gently as she is treating hers.  I understand she is not likely aware of death.  But that does not change my appreciation of her attitude, or my pleasure at her ability to squeeze every moment from life.