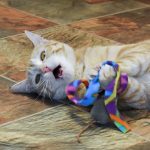 I'M BACK!!!
Blow the trumpets! Blast the bugles! Bang the drums! SOUND THE KLAXON!
After eons of ages and eternity, I was finally able to step through the GLORIOUS BLUE DOOR!!
Masked and carefully distant, sanitized, and signed-in, Karina put me to work on the list of chores that needed doing. It was amazing being back to support the Tabby's Place kitties, as well as the staff and volunteers who have been working so hard, for so long, with so few hands on deck.
I'm OVER THE MOON to be included at last in the ranks of those who have on-site shifts. I'm QUADRUPALLY OVER THE MOON because I got to see kitties and people I haven't seen SINCE THE DAWN OF EVER, and because I got to MEET KITTIES NEW TO ME!!
MY HEART IS EXPLODING OUT OF MY CHEST!!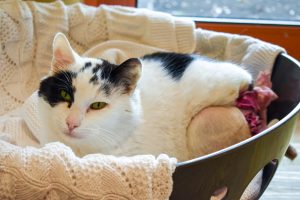 I AM AN EXPLODING STAR THROWING OFF THE LIGHT OF LIFE IN ALL DIRECTIONS, AND I'M THROWING THAT LIGHT OUT TO YOU!!!
I promise to stop yelling now. It's just that all the feels and all the wonderment of the beginning of THE RETURN are so MUCH!
Every person looked MARVELOUS! Every kitty looked STUNNING! Every towel, and mop, and machine, and space was glorious to behold with my own eyes. It was SUCH A DAY!! (Sorry; I will try to stop shouting.)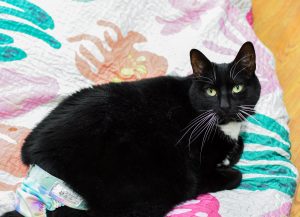 So much happened, though! On this one day, Olive let me pet her more than she has allowed me to pet her in all the years I've known her combined. And, I used to be a bringer of paper bags and treats, which never made a difference.
I met Grecca! More on that at a later date, because Grecca. Wow.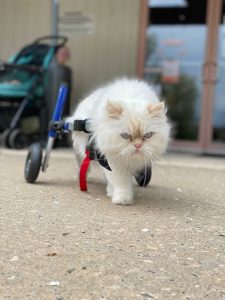 Sophia, so much more slender, yet 1,000,000% as sweet as ever. Rose, raring and rarified, is still her darling self in diapered glory. Stocky Stanley, whom you can hear at every turn – his poor sinuses. Blissful Bellamy in all his brilliant beauty. Valiant Valerie over whom I am verily verklempt. Anka! Cotton! There are barely enough words, and there was barely enough time. Yet there was TIME WITH THE KITTIES!!
They all miss you all so very much! And I shall endeavor to channel your loving kindness through my feeble fingers into their hearts.
Know that the kitties are all thriving despite this difficult time and their individual challenges.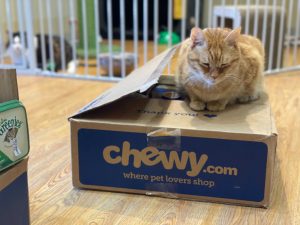 Know, too, that Tabby's Place may be operating a bit differently, but it is still Tabby's Place. It is Sanctuary. It is Heaven on Earth. It is safe from the burning fire that is exploding out of me because the fire is of, by, and for Tabby's Place. The fire is of, by, and for each and every one of you too.
So, nova or no, bask in your light and be patient.
We will all be together again soon.
Editor's note: How fitting that today, the birth of a new May, should be the day we sing tra-LA! And, to clarify: Tabby's Place is still closed to the public, but we are thrilled to welcome Kitty back as an on-site volunteer. We look forward to all manner of openings in the hopefully not-too-too-too-distant future. Rest assured we'll keep you posted. Even now, get your rejoicing on, kittens. We all have so much to look forward to.
More Blog Posts