O! Planet October, how did you enter our orbit?
There we were, Septembering along like woolly bear caterpillars, when POOF! you filled the sky and turned our world upside-down.
And now, O! October! Here we are with stars in our eyes and stomachs full of butterflies and so many shouts and sighs, I don't know where to begin.
So I will begin where all good things begin: Crinkle Bob.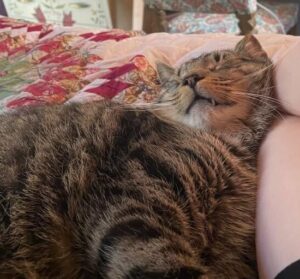 You did it, October. You crumpled us. As if it wasn't enough for you to take away our pumpkin spice Ding-Dongs and limited-edition orange deodorant for another year, you took our Crinkle Bob. YOU TOOK OUR CRINKLE BOB AND YOU GAVE HIM TO AN ADOPTER.
(Yes, October, we did "want" this. Yes, October, this is a "good" thing. Yes, October, C.B.'s new owner is one of the most magnificently awesome human beings who hath ever trod the earth. NO, OCTOBER, I WILL NEVER FORGIVE YOU.)
You did many nefarious things. You served us creepy adult happy meals. You threatened innocent cats with a butter shortage. (Do you really expect them to ever feel safe in the world again?)
YOU TOOK OUR CRINKLE BOB.
But still you were hungry, still! You raging bonfire, you chomped our choicest marshmallow and then demanded S'mores. And. Ralph. Together. YOU TOOK OUR S'MORES AND RALPH AND YOU GAVE THEM TO AN ADOPTER.*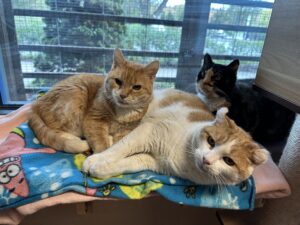 AND OUR KIKO.
AND OUR BETTY.
AND OUR CLARENCE.
AND OUR LIZZY.
AND OUR CHARLY + AOIFE + ZEPPOLE TOGETHER.
AND OUR ENTIRE VAT OF CHICKEN SALAD.
(Yes, October, technically this makes you one of the grandest months in Tabby's Place history. Yes, October, you done good. NO, OCTOBER, I WILL NEVER FORGIVE YOU. For I am selfish and want all my favoritest cats to stay here with me for all of the evers. Now pardon me while I go comfort myself with the last stale pumpkin spice Ding-Dong.)
Arrived: Habanero, Poblano, Octavia, Kane, Pumpkin, Cantus, Sprocket, Kira, Ezri, Cinnamon Bun, Icing, Viggo, Chandler, Monica, McKinley, Bonita, Tucker, Bellatrix, Cordelia, Gulliver
Adopted: Lita & Sebastian (together), Charly & Zeppole & Aoife (together), Damien, Zoya, Ponderosa, Chicken Salad, Talulah, Felix, Betty, Clarence, CRINKLE BOB (MOST EXALTED IS HE), Izzy, Joan, Ripley, Carrie, Disa, Sparkle, Whimzie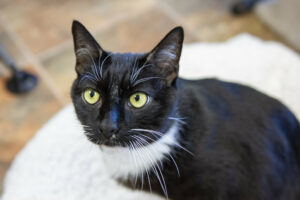 Promoted to the Community Room: Antin
Nicely Spiced into the Development Pepperpot: Habanero
Deliciously Delivered into Danielle's Office: Poblano
Promoted to Heaven: Wonton, Kane
Stuff We Learned: October, you hungry animal, you took and you took and you took. But in the meantime, our donors, our shimmering, soulful, selfless donors, gave and gave and gave. They gave so gloriously, they gave the cats the largest Linda Fund Matching Challenge in Tabby's Place's 19-year-history. They gave the cats a pillow of protection against medical mysteries yet unseen. They gave grace and mercy and healing and hope. Which, old October, you slobbering beast, I suppose you did, too. NO, OCTOBER, I WILL NEVER FORGIVE YOU.
*Technically they have not yet left the building. BUT IT IS IMMINENT. IT IS ALL OVER BUT THE CRYING. I MEAN CELEBRATING. YES I AM YELLING.
More Blog Posts