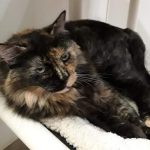 Some Tabby's Place residents scream for attention.
Notably, one feisty little Lemon zinger in Suite C and a gregariously great Grecca in the Lobby shout to be heard and have us tune in to what they want. They sing out and clamor for attention — all of the attention, all of the time. These two demand that their zestiness be recognized. Of course, we do just that. We dote on them. We coo, we cuddle, we pet, we adore. That's as it should be.
But there are many means of getting attention when you're a Tabby's Place cat.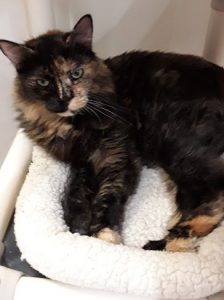 Suite A has a reputation for oozing (don't think too much about that) sweetness. Inhabitants noteworthy for their ability to cause serious toothaches included Cindy, Alice, and our dearest Mary. Each was unique and notable, and each clearly wished to be uniquely noticed. We all paid attention. We all lavished them with pets and love. Our laps were crept upon. Our shoulders were perched upon. Our hearts were stolen and returned more full, more warm, more happy because of time with these attention sneakers.
But then, there is Roxy.
Roxy is a cat of a different color. In fact, Roxy is a cat of multicolors. Although her pattern makes her look two-faced, she is anything but. Straightforward yet unassuming, Roxy's tune is more subtle than past Suite A sweets. Her tone is softer than her screaming compadres down the hall.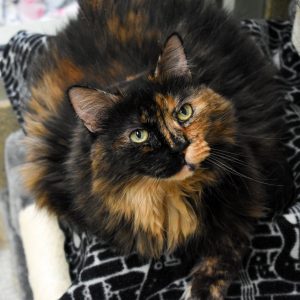 Not the type to seek out attention, it took a quacker of a noisemaker and attention grabber to direct my gaze, first past, then right back onto, this beautiful tortie. Roxy will never be so forward (Roxy insists that "uncouth" is the actual word I should use) as to beg for attention. Yet, she thrives on coos, caresses, and cuddles. Lavished with attention, she will return the affection. Gently, sweetly, always ready to give as much love as she receives.
So, if love is the drug that you are indeed looking for, you can either listen to Roxy Music the band, or you can dote on beautiful Roxy and listen to her purr. She's just The Fixx…I mean the fix…that you need.
And just in case you want an actual The Fixx fix, here's a gratuitous video:
More Blog Posts