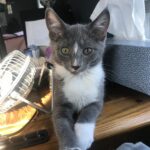 While Tabby's Place celebrates the triumph of every successful adoption, we also know the heartache of loss for those who spend their years (or even just weeks and months) with us.
Each cat who finds their way to our sanctuary is ours – truly and deeply ours, no matter the circumstances. We lament their pain, their tragic histories, and their misfortune of not having a family to call their own. And so we aim to be theirs just as they are ours, from the moment of their arrival to the hour of their departure in whatever form it may be.
Hobo arrived at our doorstep at the spry young age of twelve. He was hyperthyroid, skinny, matted, and had kidney disease, GI lymphoma, and bad teeth. Nonetheless, he didn't agree with the diagnosis that he was sick. Hobo would happily hop up onto tables and demand your attention, reaching out with his paws to pat your arm. When it came time to eat, Hobo wolfed down his food like a champ before turning his attention to a brief swimming session in his water bowl. Medication and fluids were also a battle. Hobo seemed to have "track star" and "master of hide and seek" still on his resume. He had youth in his spirit and his eyes even though his body felt the strain of age.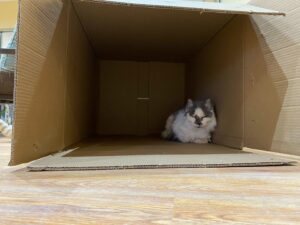 This handsome hunk of a cat quickly won over many hearts at our sanctuary. If you popped into the Lobby and took a seat, Hobo may have just hopped on over and made himself a friend. One particularly stormy night, he even had the pleasure of a sleepover with two of our associates and spent the evening curled up with them watching movies. Hobo knew love and offered it freely back to us, as long weren't trying to medicate him, that is!
He may have been a true Hobo – with his perpetually messy fur and old man grin – but he was not homeless. Tabby's Place was his Forever Home.
When Hobo left us in 2021, he also left a hole in our hearts.  Our Lobby lost a little bit of its luster and sparkle. But even then we knew that we had given our Hobo a home and months more of a happy life that he would not have had elsewhere. We have the privilege of loving cats through the ends of their lives, no matter how long or short they have been.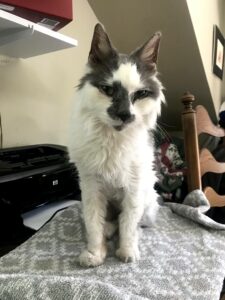 Just as we know the heartbreak that comes with the end of old age and illness, we also know the joys of bright young kittens and happy endings.
Homie's arrival was unexpected one Saturday morning. An elderly gentleman who owns a local farm found him abandoned on his property and scooped him up. Homie was everything you could want in a kitten – happy, healthy, and adorable! From the start, Homie lived up to his name and wanted to be friends with everyone, human or feline. He was immediately at ease in a foster home and made quick friends with another single kitten, Inspector Gadget. The two became easy buddies, playing and napping together and almost immediately taking over the entire foster home.
Homie's Forever Home arrived quickly to scoop him up. This handsome grey and white boy was whisked away to find happiness with a new feline friend, a shy fellow alum from Tabby's Place. With his easygoing and loving demeanor, we knew that Homie would quickly make myself at home – and he did! Homie's journey with us was short but we wished him well as he was carried away to his next chapter.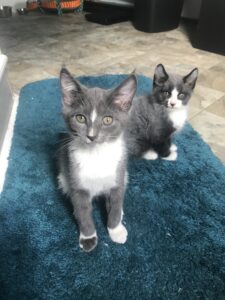 Both Hobo and Homie are why we do what we do here at Tabby's Place. From grizzled old men with a myriad of health issues to spry and spunky kittens who just need to get big enough for their own families, we open our doors and hearts to cats of all stages of life.
The past few months at Tabby's Place have unfortunately seen a great number of great losses. We have said goodbye to several long term residents of our sanctuary that we have cared for every day for many years. From Adam to Rose and Reese, we have cared for our cats with disabilities through the ends of their illnesses. Our staff have also cared for some who have only graced us for short periods, their stories coming to a close far too soon due to illness and injury. Even when Adam would growl at us during expression or we would struggle to get a BG on Reese, we loved them from their grumpiest moments to their sweetest snuggles.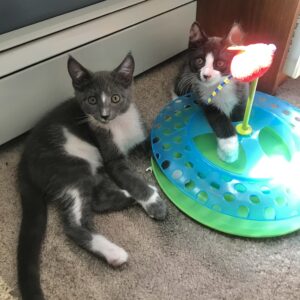 Although we ache with their loss, we also find some comfort in knowing that their lives mattered and that they were loved. Our sanctuary offers a home like no other. Many of our cats here require specialized care that is not available at other shelters and rescues. With our "cage free" philosophy, we are able to give them a more home-like environment where they can enjoy their freedom and find the comfort of a feline friend or a lap. With the help of a loving army of volunteers, we are able to provide a true sanctuary for any cat that happens to land on our doorstep, no matter their circumstances.
While several chapters have ended here recently, a myriad of others are just beginning – and we will be here to help tell their stories, no matter their endings.
More Blog Posts