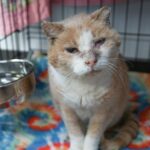 Here's a Valentine's message for Hallmark to consider: Your friends need to see you suffer. XOXOXOXO!
Watch out, Tabby's Place. Clearly your Development Director has a second career as a greeting card writer.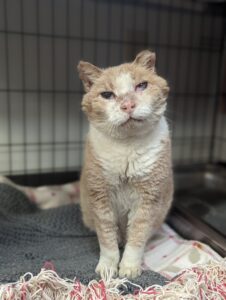 But hear me out, kittens. This is a message from the true, solid, full-sized heart of Love.
Love, in our ragged realm, looks an awful lot like Beckett. A little frizzled, a lot frazzled, sizzled by the sorrows and snapdragons of life, Beckett came to us in crisis.
Crisis is the scratchy satchel in which all Tabby's Place cats arrive. Kittens or old buzzards, they roll down this road because they were rolled by a "hopeless situation."
Life chomped the rosebuds in their garden and glued on extra thorns. Life ate all the raspberry cremes from their samplers and left only those beige caramels that taste like socks. (And only after inserting a thorn in them to confirm that, indeed, the filling was 100% sockish.)
Life stole all their Frank Sinatra records and replaced them with The Complete Recordings of Black Sabbath.
Life led them to suffer. Suffering led them to us. And us…well, we're a bunch of plush bears wearing hoodies reading "You Suffer, We Snuggle."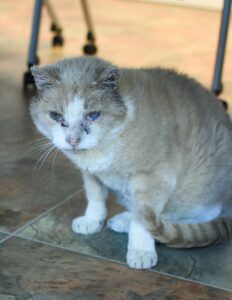 "Snuggle," in our sentimental station, takes many forms. Some new arrivals would rather be held hostage by Black Sabbath than held in human arms. Some recently-hopeless consider hugs a form of hate speech. Many, of course, cherish being cherished.
Fortunately, we speak "snuggle" in several languages, so we know how to translate sweetness to all sufferers.
And the sufferers, snuggly or spiked, need and lead the way.
Free-roaming but not feral, Beckett knew love before he knew us. He'd found his Valentine in a valiant caregiver, devoted to his every beck and call.
But Beckett's brambly body called for Tabby's Place. Dizzied by upper respiratory distress and saddled with "very, very, very severe heart disease" (quoth Senior Vet Tech Denise), Beckett suffered aloud. His Valentine loved him enough to follow his lead, and to get the help his heart needed.
His needs became our calling: we delight in smooshing up just the right mix of aggressively-stinky fish for Beckett's liking. We feel thirty feet tall each time we can bring him a teaspoon of relief. We whoop like winners when Beckett enjoys our offerings (food, skritches, original renditions of "Crazy Little Thing Called Love," etc.).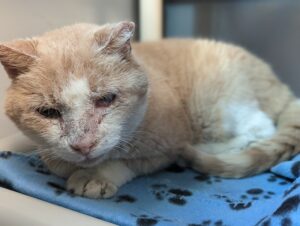 Beckett lets us care for him. Beckett gives us the opportunity to give, which gives love a place to gallop, which gives us back to ourselves.
To the naked eye, it looks like we're the lovers, the lavishers, the ladlers of attention and affection and medical ministrations. And we are.
But make no mistake as to the grander giver here.
Cats (a species incapable of making mistakes) are simultaneously the most selfish and selfless lovers in the history of Valentines.
Yes: they want all the meatloaf, all the attention, stadiums of swooning Sinatra impersonators and absolute power over the entire geopolitical apparatus. This is beyond debate.
But they also want so badly to bless us, they'll brave the biggest threat to such enormous egos as their own: the risk of needing.
They cry. They demand. They ache. They insist. They hunger. They feel absolutely everything, extremely publicly. They get personal.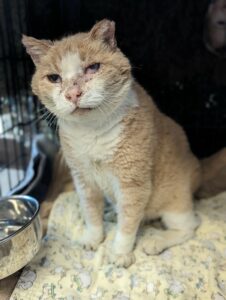 That's how they get admission to the full-sized heart of Love.
And that's the only way we ever will.
You need to get personal, because there's no other way to be a real, live person. It turns out, no one is better at being a person than a cat, and no cat better than Beckett.
And so it happens again, for the 3,159th time in Tabby's Place history, that empty paws fill our cups to overflowing.
Suddenly we're all laughing around the punch bowl, frantically and fruitlessly trying to catch it all in little mugs, until the Community Room is flooded with grace.
It's the kind of beatitude that beats "attitude" out of the loneliest pride-hearts.
Blessed are the poor in spirit. Blessed are the meek, the hungry, the open, the needy.
Blessed…happy…and generous.
So think of Beckett as you're choosing Valentines for your favorite folk this year. By all means, give them the 4′ cardboard heart filled with Haribo Bears. Don't spare the plastic dinosaurs that say "I Chews You." But tuck in the truth about your fears and longings, your needs and neuroses, the ways you want to be comforted and carried like a kitten.
As every kitten knows: we love our loveys best by letting them love us.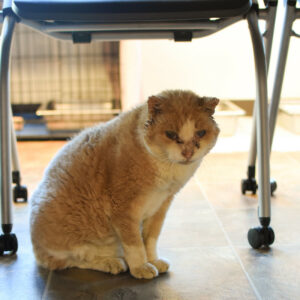 We feel selfish and scared, and scared to be selfish, but we can't be stingy. The ones in our corner want to be the givers just as much as we do.
We've been given our own forms of "very, very, very severe heart" aches so we can give them to the loves who long to love us.
We all love to love.
But if we're all stone pillars, no one gets to love.
So let's carry each other like kittens in our bicycle baskets, and let ourselves be carried.
Once again, the cats show us how to be fully human.
Happy Valentine's Day, Beckett.
More Blog Posts