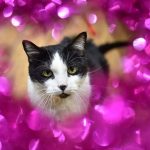 No one intends to get older, much less old.
But the surprise comes for us all. One minute you're building a tree fort with your imaginary friend Zenobia;* the next you catch yourself saying, "This weekend, I'm really looking forward to reorganizing my sock drawer."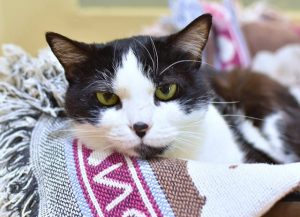 I'm of the opinion that aging is awesome, because (a) that opinion makes me feel better and (b) if it happens to all of us, we'd better embrace it.
But then, you and I are human beans with the luxury of being permitted to age. Graying isn't always glorious for cats.
Such was the case for a certain trio of a certain age. Mackenzie, Magic and Valkyrie all sailed into their senior years with an iron door slammed behind them. (Fine, stainless steel. But still loud.) As "older cats" at a large, open-intake shelter, they were at real risk of euthanasia. Just when they should have been settling in for reruns of The Dick Van Dyke Show and organizing their chenille socks together, life was about to be lopped short.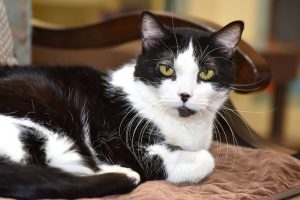 If you're a long-time follower of this blog, you'll recall that death never came calling. Instead, someone called Tabby's Place, and through a happy series of circumstances, all three tumbled into our arms.
From there, the surprises just kept piling up. Mischievous, marvelous Magic — briefly my office mate — was adopted astoundingly quickly. Valkyrie — even more briefly my office mate — proved herself to be, um, a valkyrie, waging vengeance on younger and stronger cats before being adopted, too.
And then there was Mackenzie.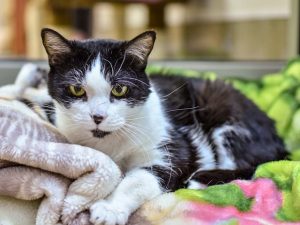 By far the mellowest of the three, Mack was a sturdy cat who carried herself lightly. She could hold her own with the rowdy elderlies of the Lobby, but she chose instead to conquer laps and gaze into souls with the deepest stare this side of the Sphinx. Mackenzie made haste for every Lobby loiterer, gifted at finding the forlorn. If you should sit on a Lobby couch with tears in the back of your throat, they would vanish in a cloud of black and white fur, which you'd proudly bear on your pants. (Mackenzie's second best gift: finding and furring black pants.)
Despite this, Mackenzie was not gifted the same miracle as her traveling companions. Weeks turned into months and years, and adoption eluded the mellowest senior. Perhaps it was her position in the Lobby, a happy land, but one that screams "IF I'M HERE I MUST HAVE SPECIAL NEEDS." (I can't imagine why. Maybe it's the wild-eyed paraplegic tuxedo who drags herself to greet you. Or the tailless ball of snow in a diaper. Possibly also the bony old Bengal scarecrow who will scream your brain straight out of your ear. Beats me.)
Perhaps it was the fact that she did, in fact, have Special Needs: achy arthritis, with medications to match.
Or perhaps it was — you and I know it was — the inexplicable timing of love, the calendar that we can't touch but only trust. Once again, "wonderful" was worth the wait.
This week, Mackenzie mellowed her way into her forever home. There were tears and sighs and final gifts of black and white wisps on our pants as she left, the sparkling smile of her adopters lighting New Jersey like a Christmas tree. I couldn't tell who was happiest: Mackenzie's new family, Mackenzie's Tabby's Place family, or one mellow old cat herself.
Make no mistake: aging is awesome. The calendar is turning towards the good. And love is never, ever late. Grow old with us, kittens.
*Who is a winged cheetah, by the way.
More Blog Posts