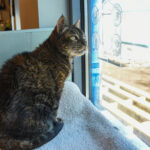 Sometimes you find yourself heading west on I-76 in Philadelphia, looking forward to a family gathering, which gets canceled when you're almost there. 
So, you roll with the punches, regroup, and have a steak sandwich with sharp provolone and fried onions instead of the expected hamburgers and hot dogs.
Sometimes, a cat lives a life of luxury in a forever home until, suddenly, something unplanned happens. 
Curveball. 
Shelter cat.
Maybe, just maybe, like an all too precious few, the cat that is thrown that arcing curveball becomes a sanctuary cat, a Tabby's Place cat. 
Miracles happen, and not only in baseball. 
It was the bottom of the 8th, which is baseball speak for the 2nd half of the 8th inning. In other words, late in the game. Jeannie and Frankie were at bat and on deck. A curveball bounced them away from home plate and straight into the heart of Tabby's Place.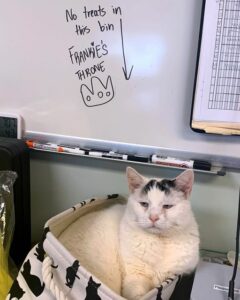 That Frankie's blue eyes launched him into a sort of stardom (all cats are all-stars in actual, real fact) is a better kind of curveball.
Jeannie's grumpy expression sets up yet a different kind of curveball. There's nothing but love and affection from the tortie with the unconvincing sneer. Take a seat at the conference table, and Jeannie will take a seat on a lap or simply, gracefully swish by, all the better to be admired.
Curveballs caught. Curveballs thrown.
Tabby's Place is a magnificent baseball glove especially designed, and expanding, to catch some of the hardest flung, curviest curveballs (possibly even screwballs) that afflict felinedom.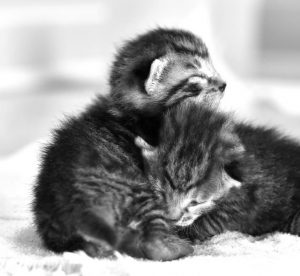 Sometimes fastballs come whizzing straight through to the sweet spot and batters hit them out of the park. Kitten adoptions are exactly that sort of easy-seeming home run (tell the fosters and kitten wranglers that it's easy, and they'll laugh and laugh and laugh!). 
Once Quinn's Corner fully enters the game, the curveballs will start flying in alongside change-ups, sliders, and knuckleballs (hopefully no illegal spitballs). The new Tabby's Place FeLV+ residents and supremely delicate kittens will be safe at home when home is Tabby's Place. Although the care for these ultra-special-needs cats will take more of everything – staff, volunteers, energy, money, fish mush, and more – there is no doubt every pitch will be hit out of the park. 
And what about those furry rookies? They'll be batting a thousand.
More Blog Posts