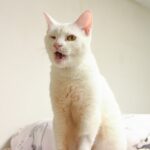 To the naked eye, Tabby's Place appears to be a cat sanctuary.
A special cat sanctuary, certainly. One-of-a-kind. Sensational. Smitten with specifically those cats the world forgot.
But Tabby's Place is more than it appears: an outpost of love. A living, purring, peeing parable. A tumbler of timeless truths.
And a place where August can be august.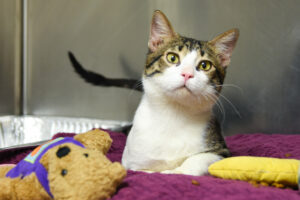 August is a misunderstood month. "Too sweaty!" shout some. "Too friendly with 'back-to-school!'" snarl others. "Too many zucchinis!" zing a few. "The month when the Choco Taco died!" weeps everyone, and in this, they have a point.
But poor, perspiring August only wants to be august: golden. Venerable. The land of the Leos and the Perseids. The month when Snoop Loopz swooped forth.
And this is where Tabby's Place can tell the truth: any month in which cats soar across the sea from Lebanon to New Jersey is a month made entirely of magic. (Nine soared thusly. Two landed in the immediate adoptive homes of staff members so spectacular, they shall remain anonymous to protect the magnificent, except to say that they are Karina and Bree and this world is not worthy of their greatness. And the other seven Lebanese lovebugs? They're Tabby's Place cats now, and the world is forever changed.)
Any month in which quirk-sparkled cats command adopters with the confidence of a sizable old man in a Speedo is a month that melts the swelter of cynicism.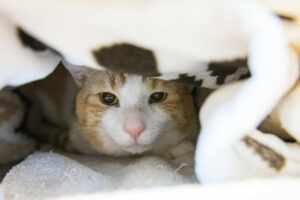 Any month in which love lassoes Sonny from sadness is perfectly care-conditioned.
August at Tabby's Place is august indeed, a 31-day Caesar to rule all hearts. But it's casual and comfy enough to go by "Gus" for short.
And it's kind enough to do this:
Arrived: Lebanese supergroup Polly, Lola, Zoya, Kiko, Ripley, Carrie, and Damien; Sonny, Izzy, Sebastian, Joan, Blondie, Lita, Zaboomafoo, Whimzie, Loonette, Mullet
Adopted: Dandelion, Burdock, Eloise, George, Paul, Filly, Barney, Dave, Matteo, Wynken, Nod, Mojito, Gazpacho, Bouillon (pictured in top thumbnail), Hopscotch, Matzoball, Wayne
Forever Foster Fabulosity: Harley, with our selfless, spectacular, shimmering sunshine Drew (I am understating the case considerably)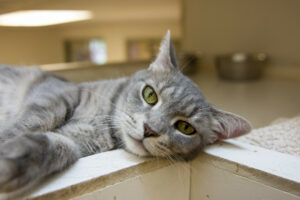 Returned: Denali
Banished to Ringworm: Stefan, Steven, and no the irony is not lost on us, yes we are weeping and gnashing our teeth hourly for these sorry boys
Promoted to the Community Room: Kiko, Aoife

Excommunicated from the Community Room due to Crimes Against Felinity: Frankie
Demoted to the Lobby, Self-Promoted to the Laundry Room for 1.7 Glorious Minutes, Demoted to a Time-Out Crate in Excess of 40,000 Times, Demoted to the Lobby, Promoted to the Lobby, Crowned as King of Kissable Chaos: Frankie
Promoted to Poncey's Place: Oram, who has Magellish shoes to fill, and the fabulosity to do it well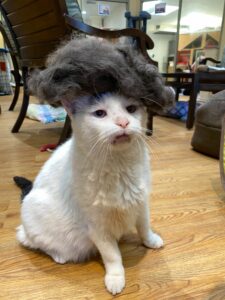 Promoted to Heaven: Magellan, Faye
Stuff We Learned: There is apparently still no crying in baseball. But there is a lot of happy crying when a cat so august as FeLV+ Wayne (pictured in top banner) chariots straight out of our doors into forever. But when the full story gets told, there is nothing in this world more august, more imperial, more awe-inspiring than love's tears.
So, sweaty or school-bound, in our Speedos and sweaters, let's weep and whoop and cannonball together into the great tidepool of tenderness. September 2022, we're coming for you.
And in case you have any lingering fears regarding the kindness of this particular September, behold one of its first offerings at Tabby's Place.
Meet Earl.
MEET. EARL.
Earl has both epic ringworm (ergo the intergalactic glowing, which is what ringworm does on the diagnostic disco floor) and a smile that just might save the entire universe.
You have hereby been Earled.
With Earl on our side, can September be anything other than splendid?
(No, no it cannot.)
More Blog Posts