Prepare to lose your heart…and find your song.
Frankie's true, blue eyes are looking to you for love. Like a certain other blue-eyed Frankie, this handsome boy wants to fly you to the moon.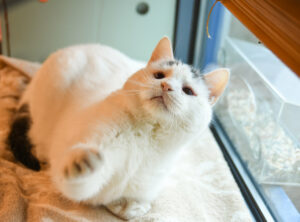 But first, you'll need to love him all the way…just the way he is.
Don't let his sad eyes fool you: Frankie is full of fun, with a heart bigger than the full moon over New York, New York. Although his original family could no longer keep him, he's clearly a cat who believes the best is yet to come, and he greets each new day with gusto.
He's technically a senior (born in 2010), but zesty Frankie zings with the energy of ten kittens. You can almost hear him sing, "you make me feel so young!" with every step as he scampers through our Community Room. It's a joy to behold our snowy comedian soaring through the air and getting into hijinks (and office drawers, and treat bags, and every single sunbeam).
When it comes to humans, Frankie's never met a stranger, only a new best friend. The moment those big, eyes land on you, he loves you…forever.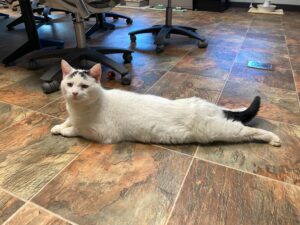 But Frankie would prefer that his fellow felines remain strangers in the night. Our Chairman of the Board can be a bit bossy with his furry neighbors, attacking unsuspecting cats for little reason other than sharing his space.
But Tabby's Place cherishes our cats for all their quirks, so Frankie's bravado is no barrier to belovedness here. A pair of safe, well-tolerated behavior medications help keep him calm and content, and our staff and volunteers are thrilled to dote on him and play with him, so all that exuberant energy has a healthy place to go.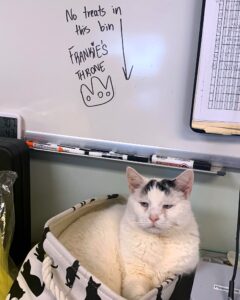 Of course, the place Frankie most wants to go is a loving home of his own. But in the meantime, he hopes you'll come fly with him as his sponsor.
Your generous donation will help Frankie to flourish, and to know he's loved exactly as he is — and, might we add, not in a shy way.
Please give your love to the cat with the big, blue eyes and the giant, golden heart. Ol' Blue Eyes can only sing his sweet song if you bring the harmony.