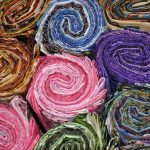 What do you do with the remnants?
More urgently: what becomes of you when you realize you're a remnant?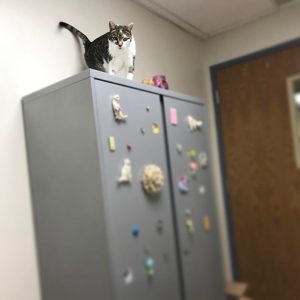 This is quilt-talk. Despite my woeful inability to sew, I have it on good authority that quilters are often cat people of the first degree. (These include several of our coolest volunteers.)
It makes intuitive sense. Quilting is tender, time-consuming business, thousands of stitches standing between you and the cozy conclusion. You must see the beauty, feel it mystically beneath your thimble, long before it lives.
Loving cats, too, is a long-haul, inch-by-inch endeavor that will demand your tenacity and vision. These are both exquisite forms of art.
And these are both projects that force you to face remnants.
In quilting, remnants are the scraps and stretches and leavings of larger bolts of fabric. They may be cast casually into a bargain bin of bits; they may be wrapped lovingly with fellow fragments in ribbon and marketed as "fat quarters." But either way, they are leftovers from a larger story that they're now called to tell in their own tiny way.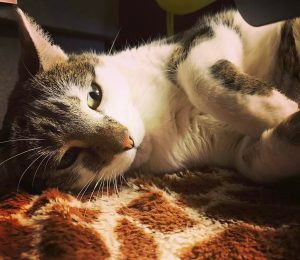 Sound like a certain species we know?
Sound like you and me?
If we never before realized that we're all remnants, the small matter of a global pandemic has forced it upon us. We struggle to remember exactly where we've been; we make the heroic best of where we are; we can't fathom where or when or how we'll be stitched into an uncertain new rhythm.
But even in our befuddlement, we carry all the patterns and colors and unkillable beauty of everywhere and everything we've been. When we felt more self-sure and whole, it was easy for our little blossoms and stripes and ginghams to be part of something large; now we're exposed, asked to be honest whether or not we like it, awaiting a new pattern even when the needle pokes so hard.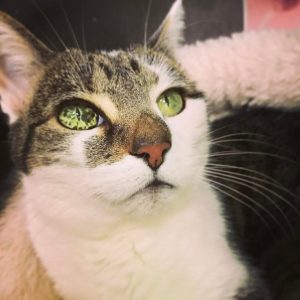 The cats are reeling with remnant life, too. I got to see this first-hand, for the first time since mid-March, a few days ago. Yes: I finally made it back to Tabby's Place.
This does not mark the end of my lockdown season, far from it. Between my stubbornly "high-risk" status and the fact that Tabby's Place is still nowhere near open, my regular presence in the building is still weeks (months? aeons?) away. But, to paraphrase Anais Nin, when the risk to remain tight in the lockdown was more painful than the risk it took to race down Route 95 and hug my Bucca, I got Jonathan's blessing to come back for a visit.
All along my ride, I instructed myself, mantralike, you will not cry. You will not cry.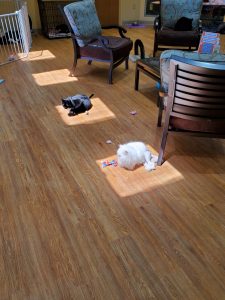 And then I pulled into the parking lot, laid eyes on the side door to the building, and proceeded to cry like a child. I LOVE THAT SIDE DOOR! IT LEADS ME HOME! O GREAT SIDE DOOR OF MY HEART!

Entering the sanctuary, I took my temperature (or rather, a helpful electronic man-voice did so through a wrist scanner); went through some preliminaries required of anyone entering the building; and made haste for the Lobby.
What I saw was an uncanny mix of "utterly unchanged since March 13th" and "eerie beyond explanation." Olive was scooting; Patty was preening; Walter wanted my full attention; Anka assumed I had arrived to stroll him about the gardens; Cotton clambered my way, showing off his newly 300-pound bod. (Yes, I exaggerate. Cotton has only gained 190 pounds.)
Across the glass of Suite C, Archer and Louie were heaving themselves around with sumo style. The usual suspects were swinging from the usual chandeliers of Suite B.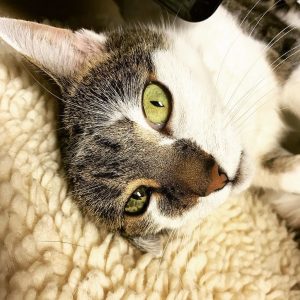 Everything was the same. Nothing was the same.
The cats seemed simultaneously calm, unimpressed by my return, and ever so slightly off. My human friends, who I wanted more than anything to hug like a toddler ambushing Cinderella at Disney World, were all masked and socially distant.
We were all a bunch of remnants, rollicking forward with guts and grit and serious uncertainty, mixed with the solid sureness that this was Tabby's Place, and all would be well no matter how weird.
I felt the unfinished, straggly ends of my scraps stitching back together.
After steeling myself with a hilarious, heartfelt conversation with Jonathan, I prepared to see her.
To be continued…
More Blog Posts