There are a great many ways to get in trouble.
There are also many ways to stay out of it, but they are far less interesting.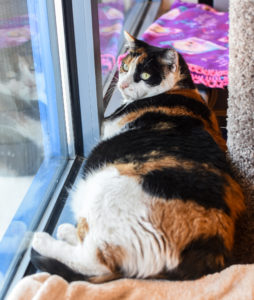 You can get in trouble by eating too many fermented vegetables.
You can get in trouble by riding your tricycle into a meeting of the Joint Heads of State.
You can get in trouble if you are observed without a beard restraint at Starbucks.
You can get in trouble for being a wild tricolored trip of a creature, equal parts delightful and insane and 100% yourself.
This description fits both Lucy Blue and Rosita, albeit in utterly, exuberantly different ways. Beyond a shared calico kookitude, the girls would seem dramatically different.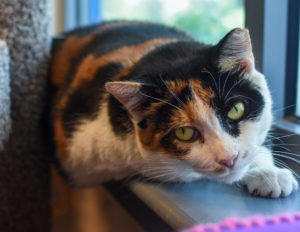 Lucy Blue, shaped like a manatee and more imperious than your average monarch, would do equally well on The Crown or a 90s rap video, surrounded by hamsters bringing her champagne on a yacht whilst throwing fistfuls of cash in the air.
Rosita, all knees and elbows, seems best suited to the roller derby, wearing glitter for days and rumbling her way to a bruised and glorious victory.
One is the living embodiment of a nap.
One has the energy of 400,000 caffeinated gnomes.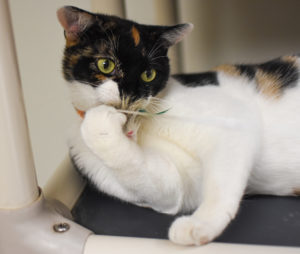 One is as dense as a neutron star, with the ability to engulf every light-beam. (Never has a creature sunbathed so spectacularly.)
One is a living, lunatic comet, light and lithe and prone to cross the sky more quickly than the naked eye can even marvel at properly.
Both are trouble incarnate.
Which is to say: both are among the best of the best of the best.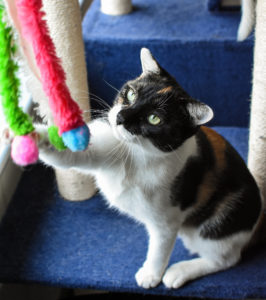 So it's no surprise that both of our conquering calicos recently vaulted their way into forever homes. In both cases, despite what might look like drawbacks — Rosita's exuberance-bordering-on-aggression, Lucy Blue's advanced age and submarine size — the right adopters arrived at the right time, and they knew they'd gotten the deals of the century.
That's how you feel when you know you've landed a quality cat.*
In fact, when it came to it, "selling" our calico characters was all too easy. It immediately brought me back to c. 8th grade, when I engaged in my first ever entirely-up-to-me animal adoption. At age 13, I was given permission to choose and adopt one of the hamsters recently born to my friend Julie's hamster. (Hamsters' core competency is producing additional hamsters.)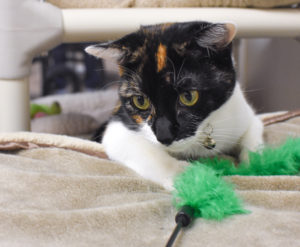 I was excited; I was a little anxious; I wanted to be sure I chose the right hamster, the hamster who needed my particular love and home and already-purchased hamster accoutrements.
I needn't have worried.
The moment I arrived at Julie's house, her younger brother burst through the door and crowed, car-salesmanlike, "You're here! Alright! I'm gonna make sure you obtain a quality hamster today!"
(I swear I am not making this up.)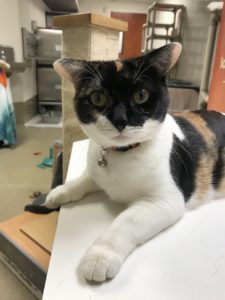 Sure enough, I did.
Picard was a quality hamster with an exquisite gift for trouble (specifically, spawning many additional hamsters despite being just a few weeks old; also, escaping nightly and having rage-diarrhea on my stuffed animals, but I digress).
The quality and the trouble were inseparable. Perhaps they always are.
So as we see Lucy Blue and Rosita off on their way to make much good trouble for their new families, let's keep the quality churning right here.
Get into some trouble.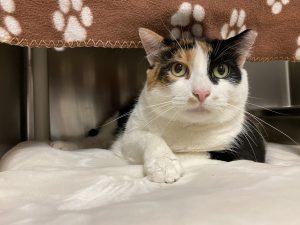 Make it good. (Watch the fermented vegetables.)
And remember that you are a top quality creature, divine despite your "drawbacks." The right friends and miracles and car salesmen will recognize you, and vice versa, and nobody will be drawing back at all.
*Not that there are any other kinds, but you already know that.
More Blog Posts