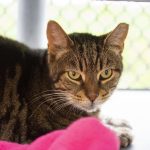 Sometimes the littlest things have the greatest impact.
No, I'm not talking about meteorites. I'm talking about cats.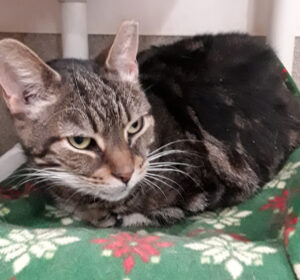 Not only are cats one of my favorite topics of conversation, they are most of my favorite people. Cats of every shape and size (well, within the limits of the general cat form) are worthy of odes and songs and loads of attention.
At Tabby's Place, there are some cats who require extra special attention, even though they may fear or disdain it. Many of these cats are good candidates for the Befriending Fearful Felines program, named for the fearful felines who really need to be befriended, whether they like the idea or not.
Success in this program is reliant on many volunteers and infinite patience. Infinite. Patience. Yes, patience is a virtue, but, seriously, at Tabby's Place it is an absolute necessity for success in certain cases. Slow pays off. Slow gives a cat a chance to get comfortable. Slow builds trust. Slow allows a cat a chance to decide to love and be loved. Slow is the path to adoption.
So, slow is the way we roll.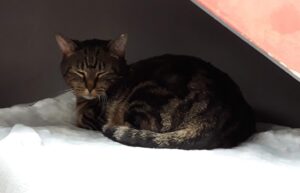 If you're a regular to Felis Catus, then you've read about recent strides I've made with Wonton. Well, that news is so old now that it's too stale for croutons. Wonton has recently come to accept that the hand that skritches and rubs and pats is attached to a real human. Strangely, happily, delightfully, heart-explodingly, Wonton has decided that he's okay with that.
Wonton.
Okay.
With human.
Not only okay. He STAYS!! Wonton STAYS!! And, for very long visits. (Here's a glimpse.)
The wow factor is GINORMOUS!!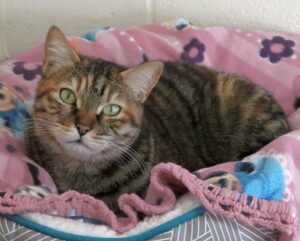 This is just one step out of many that turns a fearful feline into a most favored feline among the humans at Tabby's Place. This one step is so much bigger than the vast tiny little steps previously taken, that it's plausible that Wonton might actually decide to climb into a lap at some point before 2022 comes to an end. I'm hoping it's my lap. It will be thrilling no matter what.
Not to be outdone, Yuki, who refuses to be caught on video…by me…yet…is turning into one scrummy little cat. Recently, this retiring, semi-recluse was convinced to allow a certain volunteer to almost sort of hold her in her cubby — one hand and wrist left of head and shoulder, one hand resting lightly on her other shoulder.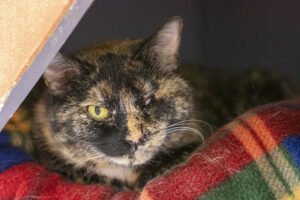 It was too brief. It was very real.
It is impossible to overstate that the wow factor is GINORMOUS!!
There are many cats that are making strides in their comfort with the humans at Tabby's Place.
Iris making eye contact? The wow factor is GINORMOUS!!
Cammy seeking out love and attention? The wow factor is GINORMOUS!!
The list of fearful felines who turn into friendly felines is always lengthening. What happens when they are adopted? The wow factor is GINORMOUS!!
On the scale of the universe where such things as the eagle nebula and chocolate bars exist, getting fearful felines to flip their friendly switches on may be a small thing. But, in the world of Tabby's Place, trust me, the wow factor really is GINORMOUS!!
More Blog Posts