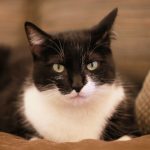 Editor's note: I'm overjoyed to introduce Tabby's Place's newest staff member, Jae.
As you're about to see, Jae is both a gifted writer and a true friend to our cats.
We — feline and human — are delighted to have Jae on our team! — A.H.
Senioritis may be a term more often reserved for lackluster teenagers who can't wait to graduate, but at Tabby's Place, it takes on a different meaning.
Although we do have a few teen volunteers, they certainly don't lack any gusto. Our Seniors suffering from Senioritis happen to be of the feline variety.
In the cats' case, Senioritis isn't something that they've done. It's not about any creaky bones or cranky moods or stubbornness due to hard-set habits. Rather, Senioritis is the tendency for older cats to be overlooked by potential adopters simply because of their age.est
It's true that many of our adoptable cats happen to be seniors. They term "senior," however, shouldn't evoke fear. Although they've already spent a full decade wandering this earth in search of love and treats and toys, that doesn't mean they don't have many more years in front of them. All those experiences can  help to get rid of any less-than-stellar habits or mellow out the rough edges of a feisty personality.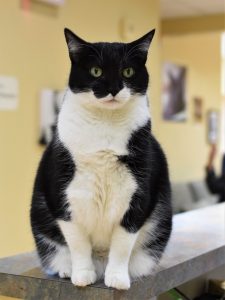 Most of our senior cats have one of two main stories. Many have spent their lives as community cats, wandering the streets and wilderness in search of food and warmth. Before their rescue, they hadn't ever known the safety and security of a home or shelter or the wonderfulness of catnip, toys, and treats.
Many other seniors have been surrendered from homes, often by no fault of their own. Maybe their owners passed away or could no longer take care of them. Maybe their people moved and couldn't take them along. Maybe the human who said they'd take care of them forever ended up not being able to deal with the veterinary costs. Whatever the reason, these senior cats find themselves at shelters, where each of their years counts against them.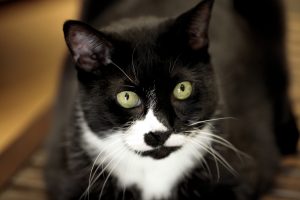 At Tabby's Place, we're lucky enough to be able to take in some of these wonderful seniors and hopefully find them the perfect homes. I'd like to introduce you to some of our senior cats.
Despite being Tabby's Place's official Receptionist, twelve-year-old Divya is often overlooked. She may receive lots of attention from visitors when they enter our Lobby, but potential adopters don't pay her much mind. She may not be the perfect cat for a family with small children (she does get a little nippy when she's not in the mood), but she is a sweet, healthy cat who just needs a loving home. If you have a good perch by a window or a comfy couch where she can lounge and monitor her kingdom, Divya might be your match!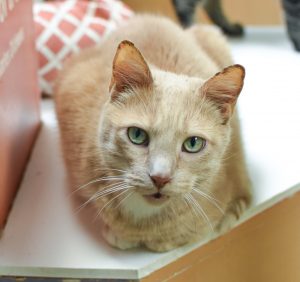 Ms. Patty is a shy but sweet twelve-year-old who silently graces the Lobby. She'd be a loyal companion in a quiet household and gets along great with other cats. She is the ultimate laid-back cat who would love to simply spend her days relaxing with you. Although she does have some skin allergies, they are fairly mild and shouldn't disqualify her from finding a Forever Home.
Bobby is a strikingly beautiful buff orange tabby. His looks often impress visitors who spy him through the window. He loves to perch in the perfect position so that he can see everyone who enters his suite and greet them first. Even at fourteen years old, he is a spry young bachelor who hopes to be someone's one and only. He may not like other cats (at all), but he wants nothing more to relax in your lap.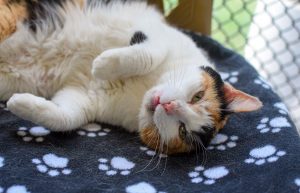 We can't believe no one has scooped up our lovely Chloe! She is a gorgeous calico and sweet as could be. She gets along with absolutely everyone, cats and humans alike. She used to know the comfort of a home, but unfortunate circumstances led to her surrender. She's still hopeful, however, that she'll find a new Forever Home. Chloe may have early kidney disease, but this gentle genteel woman deserves to find the right family.
If you're a fan of Halloween, Hope may be the one for you. Her striking coat of orange and black is bewitching, and her welcoming meows may entrance you. If you sit down in her suite, Hope is likely to hop right on into your lap looking for love. At times, she can be a little bit moody, but she has made tons of progress in terms of her crankiness. Overall, Hope is hoping that you'll see past her years and offer her a loving home.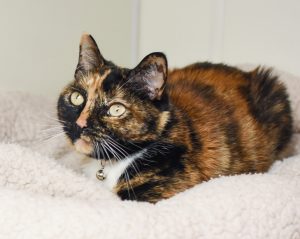 These cats are just a small sampling of our cohort of cuddly, cute, and captivating seniors. We may be a bit biased (or just completely biased), but we truly adore our older cats and hope they all find wonderful homes. If you're looking for a feline companion, please consider adopting a senior cat.
And right now is an especially great time to adopt from Tabby's Place, as we are having a Valentine's Two-for-One Adoption Special! Each pair of valentines is only $135. Get twice the love for one adoption fee!
More Blog Posts