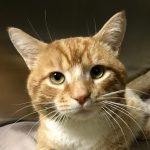 John Legend songs.
Red roses.
Abominations committed against marshmallows.
It's Valentine's Day, with all its mixed feelings. Fortunately, we have Dorito, and Dorito has us.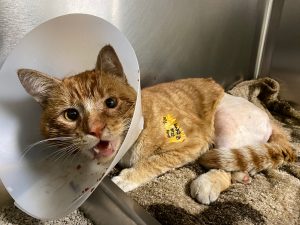 Boy, does he ever have us. He had us from "howdy," but that was many moons and bandages and strawberry-champagne marshmallows ago.
Our dance with Dorito began with a frenzied phone call, the kind that has fuzzy reception on both sides of life and death. The details were too familiar: a cat, a car, a tangle of limbs and fur and uncertainty. We said "yes," the way anyone in their right mind says yes to the offer of a Dorito.
We knew he was orange; we knew he needed us; and our gooey cordial hearts knew no answer but "of course." But we didn't know quite what we were in for.
I don't mean medically. To be honest, Dorito's bodily brokenness was pretty straightforward: this was no Riley or Ella. Dorito hadn't crumbled like Humpty Dumpty. But one of his back legs was crushed, and that meant surgery, and cage rest, and other indignities that would rile even the righteous. Besides, this was a stray cat; who knew if he'd forgive us for being human beings, much less poking and prodding and putting a ridiculous cone on him?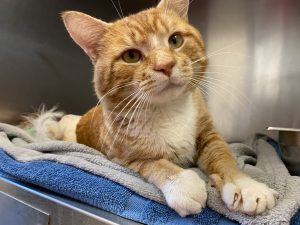 Dorito knew.
Because Dorito knew exactly one thing: love.
From Day One, ridiculous collar and post-surgical pain and mountain of medications and all, Dorito devoured love. His affections were flamin' hot from "hello;" his stray days had apparently left no taste of suspicion in his mouth. He was healing, and he was here, and he was happier than a hundred hopping toads.
In the presence of one Dorito Rosenberg, you'd turn into a hopping toad, too. His exuberance — his YES! — is just that loud. He's all bright-orange excitement, bliss and big snuggles from tip to tail, and we're rendered hopelessly giddy in his sunrise glow.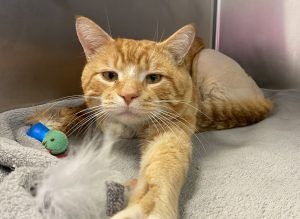 I sometimes wonder what makes cats — to say nothing of people — the way they are. The nature/nurture debate gets crushed like a cracker in the face of a Dorito. His history with humans was near-nonexistent; his experience of our machines was near-fatal. What could account for his relentless joy, his gleeful limitless love?
I can only bask in awe of such a beast, feline or otherwise. I can only venture that some souls are gifted with a deep-down rootedness in love from the moment they land. They are primed — graced — to breathe love. They expect it from the world; they find it where most of us are blinded by ourselves; they give it in greater measure than makes any earthly sense.
Dorito is such a soul, settled and starstruck by the truth of love. I suspect he's been this way from birth, and he'll be lifted by love until his final breath.
Valentine's Day is complicated, but life, in the end, is not. The first and last word, for all of us, is love.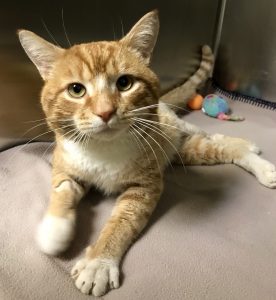 More Blog Posts