Is there anyone out there who has managed to escape what we humans call "hurt feelings?"
I hope there is; however, I can say I am not such a one. 
We are sensitive beings, sometimes overly so.  We hold grudges.  Some of epic proportion.
But what about the feelings of the felines among us?  As I write this, my not-so-ladylike young lady lies across the doorway to the room.  Her sole purpose in doing this is to block entry to my much bigger, once feral male cat.  Nope, he won't take her on (one too many bops to the head and he now gets it).  He'll walk away.
Are his feelings hurt…or is he just smarter than those of us on two feet?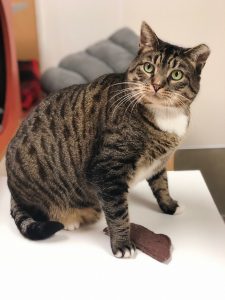 The proverbial "know when to hold 'em, know when to fold 'em" comes to mind.
And what about the unique personalities of the Tabby's Place kitties?  They find their way to the sanctuary in every imaginable way. Some may be forever grateful to have landed in the little hamlet of Ringoes after all their trials (think of Anka's epic journey from Turkey). Others may find themselves asking, "Wait, how'd I get here? Where's my couch, my peeps?" (think of any cat who's suddenly lost her home).
We know cats can start out scared, but are their feelings hurt?  They can't know, when they first arrive, that we humans at Tabby's Place will love them to the moon and back forever.  But that scared moment doesn't last, and they soon relax into the loving energy that envelops the sanctuary.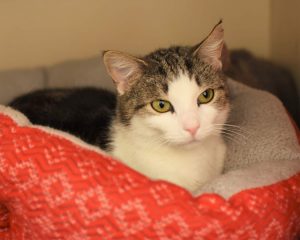 Each one finds her way. We watch in amazement at how, for instance, Sparkly has learned to seek comfort from Carrot, and how any kitty knows she can be safe with Doodle.
I have personally observed how Clawdia nurtured and snuggled little scared Elsa. As Elsa settled in and blossomed, Clawdia graciously shared the human attention with her buddy.  She helped Elsa right into her new forever home!
But Clawdia herself still waits for her right person.  Hurt feelings?  I doubt it; she is still the purring love bug she has always been, dreaming that her forever home is right around the corner as she gets a ton of love right where she is.
Maybe those of us with easily hurt feelings can take a page out of that fascinating cat book and live in the moment.  The kitties live their happily-ever-afters right now. We have the privilege of lavishing them with oodles (and Doodles) of love.
More Blog Posts