Extra is so much more than just a brand of chewing gum…if it even is one any longer. I really don't know, having not paid much attention.
Back in the day, I alternated between Wrigley's Spearmint and Doublemint, with the occasional pack of Big Red to mix things up, until I kicked the gum habit that helped me break my nail biting habit. No Extra for me…well, not the gum, anyway.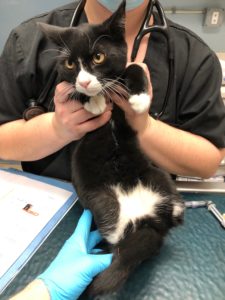 As an olde tyme term for special newspaper edition (the early 20th century version of today's breaking news scroll), shouts of "Extra! Extra!" helped newsies hawk those special editions while they barked to be heard over the bustling crowds and background noises of busy city streets.
Being a button-poppingly proud aunt of wonderful children who have taught me that "extra" is far beyond "basic," and that they consider me to be extra, I feel authorized to tell you about a couple of extra special extras who now grace our Tabby's Place family (due to space considerations, I'll spare you my excessive gushings over old faves like Walter and Carrot, whom we all adore and I go on a bit too much about).
The special editions being shouted about today are Legolas and Roxy.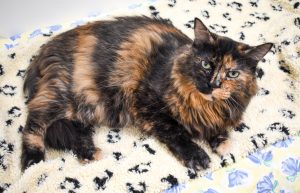 Legolas is a youngling tux with a face so beautiful he could stop traffic and shut down Wall Street. Short-shrifted on leg length, this little guy only knows that he is wonderful, and the best things a fostered kitten can do are eat, play, and snuggle all day, every day, all the while exemplifying extra — extra cute, extra funny, extra sweet.
Not to be outdone by her junior, Roxy defies stereotypes. Roxy is a tortie with a mellow vibe instead of crazeballs tortietude. Her Halloween-y coloring, starlet gaze, and lush fur can melt the coldest heart. Move aside, Mae West! This extra special senior may come with special needs, but Roxy has moxie. Pen drop.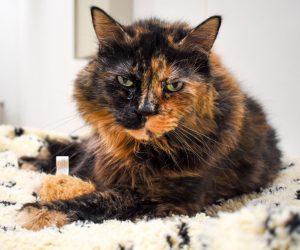 So, when time allows, check out these extras, then take a few extra minutes to scroll around for a look at more of the extras who have captured our hearts. You'll be extra glad you did.
Editor's note: Since the time this blog was written, Legolas has been loved all the way to his forever home. We are 0.00% surprised and 1,000% delighted. XO, AH
More Blog Posts