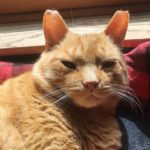 December 2nd, 2020
Dear Oscar,
I can't believe it's been one year since I brought you home.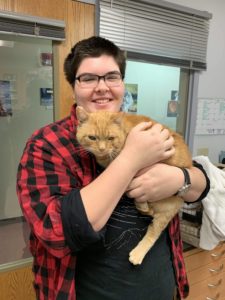 I can't believe it not in the sense that it seems like I just adopted you yesterday, but rather that it's only been a year since you joined my family. In many ways, I feel as if you've always been a part of my life and I can't imagine my world without you in it.
You arrived in my life just when I needed you most. In August 2019, I lost my childhood cat, Ezra, from old age and heart failure. I'd had Ezra in my life ever since I was four and my home felt empty without his presence, as I'd never lived in a cat-less home in my memorable life. He was a cat filled with personality and quirks and I knew that, no matter who I adopted, there would never be another Ezra. Although I felt that I wasn't ready right away to adopt again, I couldn't help but miss the presence of someone snuggled up with me in bed at night or sitting by my side on the couch.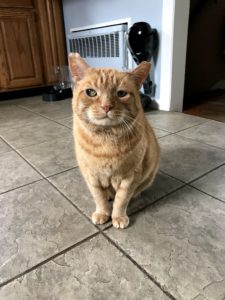 After a few months, I was ready to adopt a new feline friend. As a volunteer (and now staff member) at Tabby's Place, I had a whole sanctuary of cats to choose from and I had a lot to consider about what I wanted in a cat. I knew from the start that I wanted a cat that was considered "difficult to adopt out" for any reason. Although I hope to someday be able to take in a special needs cat (or two…or three), I also knew that I didn't have the time and resources to take in a diabetic like Simon or a paraplegic like Anka. I also loved working with some of the shy cats who are often overlooked due to their timidness. Age also didn't matter much to me, but I preferred an adult or senior.
I took my time in mentally going through the list of every cat I liked at Tabby's Place (which is a very long list indeed, as I love every single resident, even the ones who don't love me back) and thinking about if I would be able to meet their needs. My visits to Tabby's Place became more frequent and I spent a good amount of time simply hanging out in the suites and solariums, visiting the top contenders.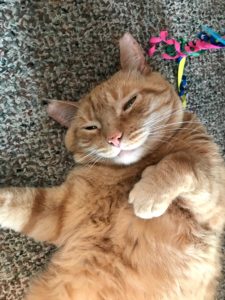 I had a list of cats I was considering, but every time I visited, I felt myself drawn to the solarium of the FIV+ suite. And every time I visited, there you were, hanging out with your bestie Shea and enjoying the fresh air. I would sit on the floor and you would come right over, laying beside me and rubbing against my legs.
I fell in love with you slowly, and then all at once. I loved your wonky eyes and the tiny crinkles on the edges of your ears. I loved you mismatched black and white whiskers and grumpy looking face. I loved your squishy cheeks and your shy but sweet demeanor. I finally realized that you were the one and decided to take you home.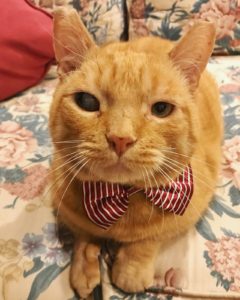 I wasn't sure how the transition home would go. As a shy cat, you were likely to need some time to adjust to your new surroundings, but I was prepared to be patient with you. Luckily, I didn't need to worry. Although you were a bit anxious when I first brought you home, by night time you were snuggled up in my bed with me. Ever since then, you have been at my side.
You're definitely a spunky dude with a lot of attitude, but I really wouldn't have it any other way. Even my mother – who really didn't want me to adopt another cat but eventually gave in when she saw how unhappy I was – has fallen in love with you (but she won't completely admit that). I'm glad for this year that we've had together, even when you drive me a bit crazy.
Just remember, Oscar, then I still love you even when…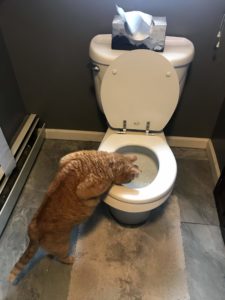 …you sit outside the shower curtain and howl, annoyed that you can't jump in with me
…you change your mind about what exact flavor of Friskies poultry pate you want to eat, even though you've been eating it for months and refuse to eat any other brand, type, or flavor of wet food (but heavens forbid you don't get anything!)
…you try and wake me up at 6AM so I can feed you by licking my face and refusing to stop
…my parents gripe to me every time I leave about how you follow them around the house and are always underfoot
…you sit at the window and yell every time I go outside, even if it's just for the 60 seconds it takes to get the mail
…I spent money on expensive electronic enrichment toys that you loved up until you discovered the ratty old wand toy that you're obsessed with and now won't play with anything else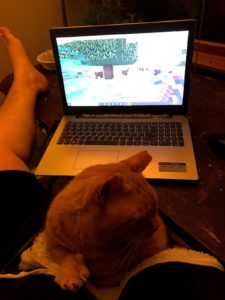 …you get feisty with me when you don't get your way
…you get litter across the entire room despite having two litter mats around your box
…I almost fall down the stairs every time because you have to be right there next to me and I almost trip
…I go to get dressed and discover copious amounts of your hair all over every article of clothing I own
…you turn into a massive jerk every time I go to trim your claws
…I had to chase you across the entire house to get you to take your medicine
…you get jealous every time I bring home a foster cat and refuse to be friendly with them because they take away my attention from you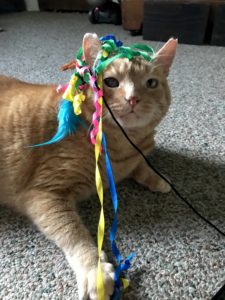 …you sit on my work computer and delete important emails or send messages to the chat during a virtual all-staff meeting (yes, he really did that)
…you refuse to get off my lap when I need to go because you know I'm leaving
…you constantly chew on my phone charger cord and knock my glasses off the table almost every night
…you're a total brat who wants your own way.
You drive me crazy every day, but I wouldn't have it any other way. Thank you for being you.
So Happy One Year Anniversary, Oscar. And here's to many more!
Love,
Your human, Jae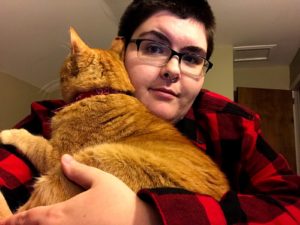 More Blog Posts