Sometimes I walk around grinning like an idiot.
Mask or no mask, there's that stupid grin that I wouldn't want to shake off if I could. When the mask is on, I wonder if my eyes look crazy. Kinda hope so. Kinda worried about that too…my hoping so, I mean. Mushy brain? Hmmm.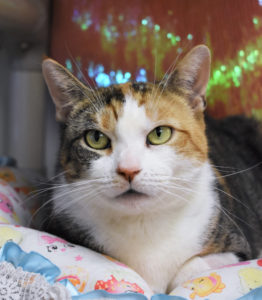 Anyway, there are days when I'm just schlepping around a great big, old, metaphorical case loaded with the happies. Here are some of the things you might find, Mary Poppins-style, jam-packed inside:
Any litter of any kittens anywhere ever
Kitten videos, especially of the one that can't jump high enough to reach the top of the baseboard, let alone the counter it's aiming for
Cats falling into bathtubs
Tiny kittens playing with giant dogs
Big, burly men going ga-ga over tiny kittens
Cats taking over dog beds, and the dogs that put up with them
Cats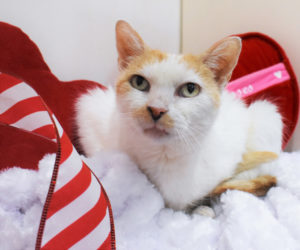 There are also some non-feline-related things in that case. Not that any are at all relevant to this post, but they deserve a quick mention and include: loved ones, quality dark chocolate-covered cherries, and spoons (yes, the right spoon can make or break a delicious snack, meal, or dessert, and carefully mismatched spoons make me absurdly happy).
Packing and unpacking my case of the happies has become a more important exercise than ever. There are loads of great things in there, and some are memories. When those memories are linked to especially dear places and people, they are all the more fun to bring out to play with or pack away carefully for later.
Just such a thing happened recently. I had the pleasure of bringing down a watercolor my sister made to Tabby's Place. Speaking only for myself, IT WAS AWESOME!!!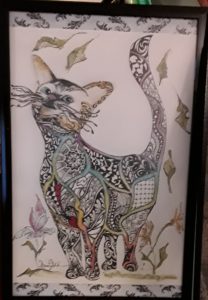 I didn't go inside. I didn't stay long. The hand-off was between me and Karina, both masked, careful of physical distance, and with me over the moon to see our Karina, hear her voice live, peek into the building, and just breathe the air of home-away-from-home.
Karina's response to my sister's artwork made me kvell. Seeing that Karina looks so well and healthy and herself left me joyous and hopeful and renewed.
Every vaccination brings us one step closer to being together, unmasked, unworried, and unhurried. We're getting there, and when we do, I'm going to be the one grinning like an idiot.
Cats pictured from top to bottom, selected for no reason other than that they are masters of The Happies: Valerie, Macadamia, Fiesta, Kitty's sister's watercolor wonder.
More Blog Posts