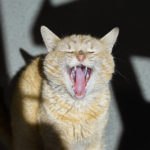 Fat Tuesday is feeling a little gaunt this year.
New Orleans itself has replaced Mardi Gras with something called Yardi Gras, which is well intentioned but sounds like a gimmick for selling patio furniture.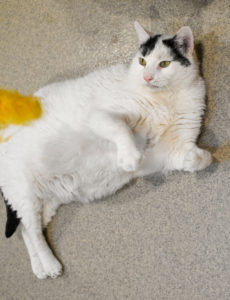 People are nervously nibbling King Cake and Paczki in the quiet comfort of their own quarantines, when King Cake and Paczki should be thrown back with abandon in the company of saints and sinners.
It's all enough to make you long for a chunky, comforting hug of planetary proportions.
Fortunately for you, Tabby's Place is here. Specifically, our colossal-est cats.
Even in a lean year, you can count on us to contain cats of substance, cats who individually and collectively contain multitudes, cats who will consume multitudes of roast beasts if given the opportunity.
So, rather than wait for a perfect, post-pandemic day for some sort of Tardy Gras, we hereby invite everyone to this gratuitous cat photo Party Gras, preferably serenaded by an appropriate Bardy Gras, from whom we shall hear in a moment.
Life remains imperfect. (Spoiler alert: that ain't changing, pandemic or no pandemic.)
Some days and months and epochs are skinny with sadness. (Public service announcement: sadness can and must coexist with great gobs of gratuitous joy, the jammy juicy jazzed kind that makes you want to cry and embrace and thank Someone or everyone.)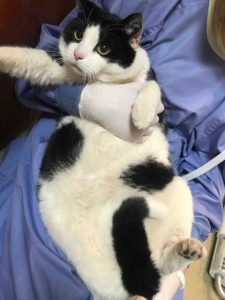 We may always be poised somewhere between the wild abandon of Fat Tuesday and the pensive ponderings of Lent. We are splendor; we are dust; we are strange, uncertain beasts, at our best when we embrace each other and each mystery as it comes.
So whatever this year has lent your heart, however this hour may have rent your heart, be of good cheer, kittens. You are not alone. Beluga-sized cats are here to remind you that you are precisely the right size for this moment and this life. And when tomorrow dawns, sprinkling ashes and glory we can't yet fathom?
We'll be up for the dance.
Now go forth and have a With-All-Your-Hearty Gras.
More Blog Posts