We have all known the little drummer boys.
They sit in the back of the bus and the back of the band room and the back of our minds, only to vault to the forefront with the full force of life.
And lunacy.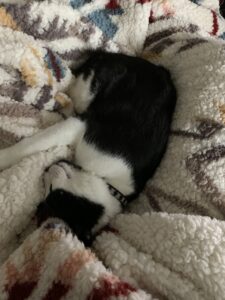 Drummer descended upon Tabby's Place when the snow was falling and the icicle lights were glittering and the chocolate in the Advent calendars was not yet stale. (HA HA HA I MADE A FUNNY: Advent calendar chocolate is always stale, born stale, as stale as my jokes about vegan cheese.)
Drummer was a December darling, a carol of a cat too charming not to be socked away in a forever stocking.
So why are we talking about the little Drummer boy when we should be singing summer songs?
Easy, kittens:
Little drummer boys are always clamoring for attention, thrumming away on the desks of our minds, and
Some drum solos result in flying sticks, and one flying Drummer landed squarely back in our laps.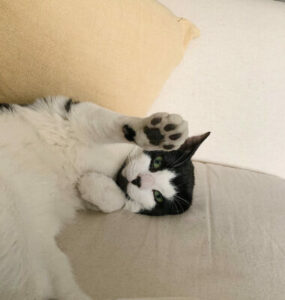 In the band called Forever, our whiskered answer to Dave Grohl got a little too excited, ravished by the rhythm of life. He thrashed; he trashed his band mates on the Internet; he used his sticks and his sass and the spiky end of his ego to spear the bassist and the lead guitar and that simpering lead singer. (He really, really, really hated that lead singer.)
He was returned to Tabby's Place for "inter-cat aggression."
And all he could say for himself? "I play the drums."
Like every excuse lodged by every cat since time began, this was sufficient. Being a cat, Drummer is irrevocably innocent; being a drummer, Drummer is permitted certain special excesses.
If you've ever spent five minutes in high school — or, heaven help you, middle school — band, you know precisely what I mean.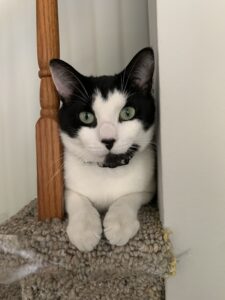 If the flutists were studious and the trumpet boys were dreamy, the drummers were a shaggy species unto themselves. They hurled their pencils skyward, lodging them in the popcorn ceiling like an army of #2 spears.
They heaved their full 97 pound body weight into cadences of their own creation, Metallica meets Animal from the Muppet Show.
They wanted nothing to do with the marching band director and his directions.
They genuinely believed Lars Ulrich would admire their gifts and their gumption and the gnarly hand-drawn dragons on their Converse high-tops.
They asked the flutists to call them The Bad Frogs.
They were feral and frenetic and fully alive.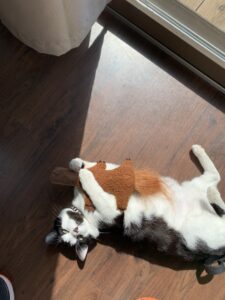 Let the record show that we did, in fact, call them The Bad Frogs. It's hard to resist the drummer boys, even though they're not as dreamy as the trumpet boys, even though their mouths are foul and their hair is a hay-field and their days are dotted with detentions.
It's hard to resist them, even though they are scamps.
It's hard to resist them, precisely because they are scamps.
And so, fortunately, it goes for one sleek Drummer boy who came pattering back like a returned Christmas toy.
Drummer may have pulled the pigtails of the feline flutists in his not-meant-to-be-forever home. He may have been the Pete Best rather than the Ringo Starr in that particular outfit. But from the hour of his return to the Grand Galloping Tabby's Place Band, he star-struck us with the rhythm of the cosmos and the cadence of kindness.
And that's the thing the tough-talking, mischief-making, detention-ruling drummer boys keep under their (backwards) baseball caps: it's hard to resist them, because their hearts are made of gold.
OK, it's gold forged into funny-faced frogs. Gold dimpled with graffiti, the likes of which is not printable in a family-friendly blog. Gold that grins at itself in the mirror with a little more the recommended daily dose of ego.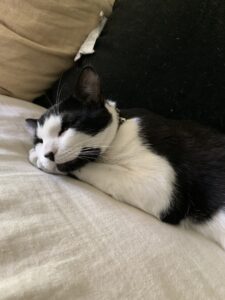 But gold, nevertheless.
And although his records have long since gone platinum, Drummer remains solid, swoony-sweet gold. He may not be the teacher's pet, but our sophomoric sweetheart is not-so-secretly the mushiest musician this side of Michael Buble. (I was going to write "Michael Bolton," but [a] you would thereby have definitive proof that I am ancient, and [b] Drummer would thereby stop talking to me forever.)
Like every drummer boy worthy of his section, Drummer has come by his shine honestly. In his case, that's meant case after case of stubborn roundworms (which all the other adolescents in the percussion session admit makes him pretty tough and bad-froggish); the aforementioned unrighteous return; and a reported competition with none other than Toulouse for Best Front-Paw-Muffin-Maker At Tabby's Place.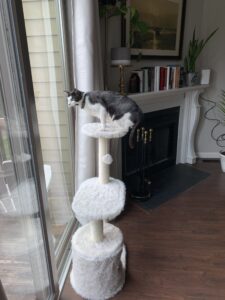 (Do not, I repeat, do not, tell Drummer that I told you this. Let the official record state that this was a drum solo competition, and Drummer's "Wipe Out" wiped out Toulouse's "In The Air Tonight," and besides, Toulouse belongs over in the oboe section anyway.)
But shine, he does — and smash expectations, and shatter hard shells, and snocker even the studious with a smittenness beyond bounds.
His good, "bad," amphibian heart has its own tempo, but he'll take us with him. And with or without us, this Drummer will march forth.
The brilliant, bountiful beat goes on.
Postscript: Who's been adopted? Drummer. Who's surprised? Not you. Me 'neither. The drumline of photos above come courtesy of his AwesomeAdopters.

More Blog Posts