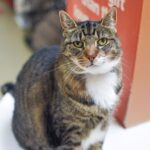 Our lives are a tightly woven fabric, with the full richness best viewed from a distance and with kind eyes.
Our most magnificent works are those done with the greatest cooperation, care, and that kindness that softens even the harshest gaze.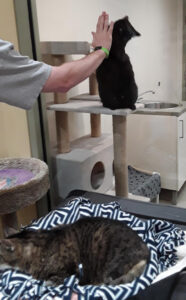 Great and small acts of charitable giving result in the best fabric each of us is capable of producing. The creation, continuation, and expansion of Tabby's Place is proof.
With Quinn's Corner approaching completion, we can take a step backward to get a closer look at this achievement, notably the highly successful campaign that brought the pooled resources of myriad, devoted individuals together to create a haven for the most fragile cats.
It is a work of art.
The weft that is Quinn's Corner will add richness and depth to the already remarkable, foundational warp of Tabby's Place. Staff members and volunteers will expand their dance routines to reach into the new spaces. Older routines will be revamped and updated. In turn, the original building will be filled with new light as it is revivified and reaffirmed in purpose.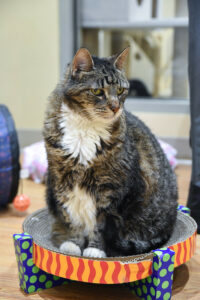 (Disco insists that I inform you that this light is, in real and true fact, a 1970s-era disco ball that she personally obtained from the historic Studio 54 before it was turned into a Broadway theater.)
All of the Tabby's Place residents throw their threads into the loom, enriching and strengthening the organization. The cats enhance the tapestry so much that at least one person has made a 114-mile (180km) round trip just to visit Crinkle Bob. In the process, said person  has woven beautiful loops into the Tabby's Place fabric.
Individually, we are the threads of the master work. Together, the mix of our yarns adds flair and panache that magnify the sanctuary's magnificence. Together, we weave a tapestry — a thing of great beauty with texture, color, and deep complexity, faintly echoed by one of Jacques Neilson's Don Quixote tapestries (woven at the historic Gobelins Manufactory).
We, like Don Quixote, tilt at windmills. We, too, have friends who will join in our greatest follies and, in so doing, help us weave our most fantastical dreams into wondrous realities (N.B. somebody needs to name a cat Sancho Panza).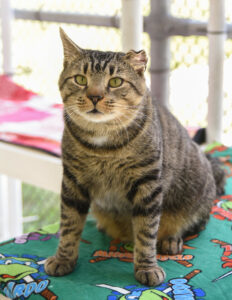 In making these tapestries of our lives, we alternately fill the rolls of warp and weft, sometimes providing the firm structure for others to dance their glimmering threads through. At other times, we weave our own way through the supporting threads, dancing in our turn. Switching rolls, back and forth as we do, would cause problems in actual textiles, so it's a good thing we're made of stronger cloth.
We are the weavers of exceptional fabrics, in our sometimes splendid and sometimes stumbling ways. We may be awkward dancers. We may trip along the way. We may step on each other's toes. Nevertheless and all the more impressively, we have made the dream of Quinn's Corner become a reality.
We did this together.
PS: Not to throw any shade on Hugo, but Quinn's Corner and Tabby's Place are some of the finest weaving ever.
More Blog Posts