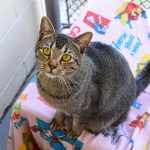 Editor's note: I'm thrilled to deliver you another special goodie today. Tabby's Place's volunteers have always been astonishing, and their awesomeness is undiminished by distance in this time of quarantine. In the days ahead, you'll be treated to gorgeous guest posts from phenomenal human beings. And, of course, the inescapable ramblings of one daft Development Director in between.
Today, though, it's a Finntacular guest post from terrific Tina. Thank you, Tina! XO, AH
They say things are bigger and better in Texas, and our Finn is no exception.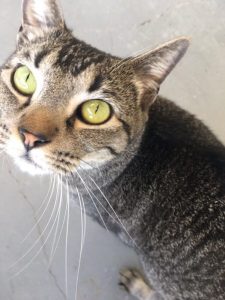 Hitching a ride to Tabby's Place from Dallas, this happy wayfarer instantly wriggled his way into our hearts in grand and glorious fashion.  Believe me, there's nothing small about this puss's powerful personality. He's a rake, a rogue, a raconteur.  Finn is every bit the tramp, the mischief-maker.  He's no huckleberry but, much like his literary counterpart, Finn is a boy who is going places, a sprightly scamp with more than a tale or two to tell.
Ask Finn anything and he'll tell you all about it.  He isn't shy with his opinions: Med charts belong in the litter box.  Water is a wonder worth hours of investigation.  Who knew what sinks were for?
For Finn, an open door is an invitation to adventure – no matter how quickly it may close.  Being outside in the solarium is soooo preferable to an indoor view, and Finn traverses the tunnel between the two with the panache and aplomb of a veteran traveler.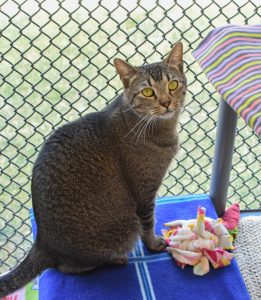 Yes, this spirited vagabond is always ready to take the high road, making friends with virtually everyone he meets. People? He loves 'em.  And other cats?  Well, let's just say this furry fella can hang in with the best of 'em and hold his own.  Finn's a lover, not a fighter, but he's not one to put up with any shenanigans – life is just way too busy for that.
Finn is a rascal and a ragamuffin, an imp and an explorer.  He's a solidly built boy with the unbounded energy of a kitten.  Finn is as apt to be found frolicking with a feather toy as chasing a ball round and round the room.  Or watching a bird.  Or washing his mittens.  What this wonderful waif wants is to grab the very, very best in life with gusto.  After all, there's so much joy to be had!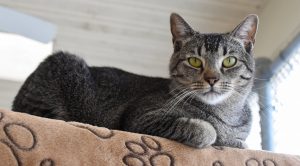 Yet, no matter how much a hobo wanders, every urchin needs a home.  Finn is certainly looking for a special one – one that embraces his boundless energy, as well as his ever so strong desire to snuggle up and cuddle.  It's funny how this little scalawag enjoys listening to a good storybook while lying in your lap.  Or resting his head on your chest or shoulder at the end of a busy day.  That sweet, mischievous look he gives you – well, Finn knows how and when to take his comforts.
He's a real snuggle bunny who can sit and purr for hours, before bounding up and embracing his next  challenge or exploit.  Then, Finn's off again — ready for another escapade on his quest for new adventures.
More Blog Posts