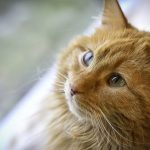 I've been thinking about freedom, and not just because of recent holidays (Independence Day, infinite Hamilton happiness, inevitable annual whinefests about Other People's Fireworks, etc.).
I've been thinking that I don't think we always remember what freedom is about.
I've been thinking that, if I'm gonna be free, I want the freedom of cats. Specifically, cats like Pixie.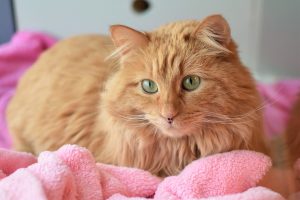 If you lovingly stalk Tabby's Place on social media, you may have already heard the news. Pixie, adopted and adored and only five years old, has left this world. Words like "unimaginable" and "excruciating" barely scratch the surface here.
We are in agony together. We are praying for Pixie's adopters. These are not the timelines we sign up for, the sorrows we reasonably expect.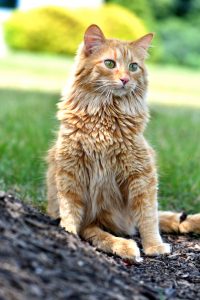 There's a faux sort of freedom that would avoid all this pain. We are at liberty, if we so choose, to surround our soft, squashable, hemorrhage-prone hearts with a moat of rabid dinosaurs. The hearts we're given are programmed to love and to ache, but we have the "freedom" to turn them into fortresses. If we do, we can avoid dazed, devastating aches like this one.
We'll just have to give up any freedom worth its name.
There's another kind of freedom, truer and older and harder and sweeter. Pixie lived it every hour, and she sings it to us even now, across the veil.
It's available to everyone, regardless of country or condition or grief or government. You can let it ring whether you're on top of the world or bed-bound, surrounded by admirers or walking alone. It's yours for the living even if you're a wild-haired, tangerine dream of a cat with bum legs and big, juicy dreams.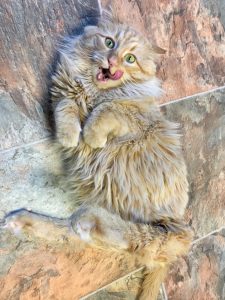 It is the freedom to lay our freedom down for each other.
It is the freedom to receive ourselves as a gift from beyond, and to willingly live our lives as a gift for others.
It is the freedom that knows mere "freedom" isn't the final goal; it's the instrument of love.
And greater love has no cat, human or marmoset than to lay down her freedom for her neighbor.
Pixie lived the greater love and freer freedom that we're all born for. Faced first with howling tragedy, then with a feast of joy in a freewheeling freaky haven (that would be Tabby's Place), she gave herself fully to the task of being a gift.
A gift to those who would hold her — a "not-for-every-cat" activity she would abide for hours.
A gift to those who needed a laugh — her clowning was second to none, topped only by her irresistible innocence even when guilty (those eyes…!).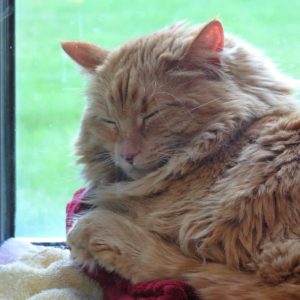 A gift to those who felt a little loveless, even unlovable, shackled in their shortcomings and solitude — Pixie, like few other creatures I have ever known, knew how and when to fire up the Eternal Love Machine. (With all apologies to the Miracles, a small orange cat operated this equipment even better than you, although you are/were awesome, too.)
A gift who gave her perfectly valid freedom — freedom to do her own thing, freedom to ignore us, freedom to shut herself up inside herself, grasping only for her own reward — to let us know we were beloved.
I can't imagine a better way to honor Pixie than to live as she lived.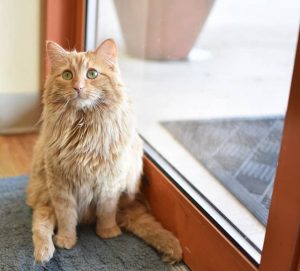 To close in the words of a saint far better and wiser than me:
Freedom exists for the sake of love. … Man longs for love more than for freedom – freedom is the means and love the end.
Let's live free, kittens. Go out and be the gift. I'll do my best, too. And I'm convinced that, in so doing — imperfectly, but schooled by one paraplegic powder puff, and with all the saints and angels cheering us on — we will be, at last, truly ourselves and truly free.
Until we meet again, Pixie Poodle.
More Blog Posts