Tiny Pixie, a puff of pumpkin-colored fluff, was found beneath a mobile home in Kansas. The local SPCA was horrified to find that Pixie had a pellet lodged in her spine. Someone in the park had been using stray cats and kittens for target practice, and Pixie was permanently paralyzed by her injury. Undaunted, the wild-haired youngster yearned for playtime and love.
Despite the Kansas shelter staff's loving efforts, no home could be found for Pixie. As a public shelter, the SPCA was approaching critical capacity. They yearned to provide Pixie with the care she needed … but limited space and funds meant time was limited. If she couldn't find a yellow brick road out, Pixie would soon be euthanized.
Fortunately, ruby slippers come in tiny paw sizes.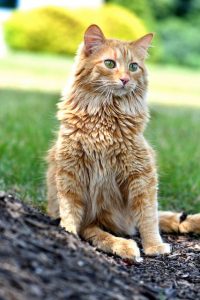 Full of brains, heart and courage, the Kansas shelter contacted Tabby's Place, 1,170 miles east. Tabby's Place is known for taking in those "broken" cats who no one else could or would handle … could it possibly be the home for one little hopeless wanderer?
Yes – but only because of loving friends like you. We hope you'll fall in love with Pixie as much as we have, and join her family as her devoted sponsor.
Since Tabby's Place has adopted out paralyzed cats before, we have hope that our persevering Pixie will have one last stop on her journey: a forever home.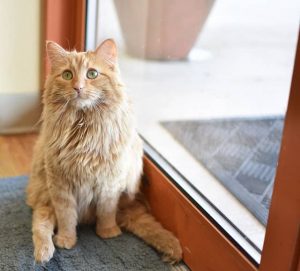 In the meantime, Pixie has a haven at Tabby's Place for as long as she needs. Our staff will gently express her bladder and bowels daily, and we keep her clean and comfortable in custom-designed diapers.
Pixie's sweet spirit has also earned her a special role at Tabby's Place. Our lovable girl is one of our "Aged to Purrfection" cats, meaning she makes regular visits to local nursing homes. Aged to Purrfection cats are exceptional kitties, selected for the program on the basis of their gentleness with people, their confidence, and their knack for delivering joy. Our Aged to Purrfection kitties make their merry visits each week, on a rotating basis. Pixie adores her visits to her elderly friends, who thrill at her affection.
Cats like Pixie are the heart and soul of what Tabby's Place is all about. But, we can't care for such courageous kitties without you. You can sponsor her, providing the tender, high-level care she needs to thrive. In this way, you can "adopt" this extraordinary little Kansas cat as your own, and we'll send you updates and photos on Pixie each month.
Pixie's not in Kansas anymore, but thanks to loving humans from the Great Plains to the great state of New Jersey, one little paralyzed puffball is perfectly safe and perfectly loved. Please help us to love her as generously as she deserves.