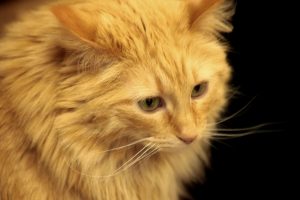 Hello, Pixie fans!
Get ready for an amazing update with the most wonderful news: Pixie has been ADOPTED!!!
We've hoped for this ever since she came to us, but it seemed unlikely at best, because so many people don't have the time to care for cats with special needs. And, as you know, Pixie requires particular care because of her partial paralysis.
But our orange charmer's sunny nature, which conquered so many hearts, also succeeded in capturing the love and devotion of someone very experienced in the ways of special needs felines—a veterinary technician (this is not the Tabby's Place vet tech, but one from a different facility).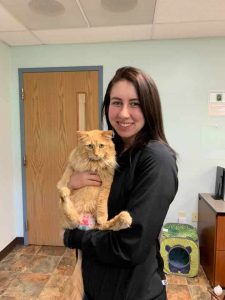 I won't lie to you; Pixie's adoption occasioned the use of many tissues by staff and volunteers alike. I think it was literally true that there wasn't a dry eye in the house. We will miss her very greatly indeed; she's an amazing young lady. But we are confident that she has gone to the best possible home, one in which she will be cherished just the way she is. Pixie is pictured here with her new "mom."
And you must allow me to thank you one last time for your support of Pix. In a world where there are so many demands on your pocketbook, it truly warms my heart to know that you chose to help us help our sweet girl. Thank you!
Since Pixie has been adopted, your sponsorship has been transferred to another Special Needs cat: our newest paraplegic tabby, little Scoots. Like Pixie, Scoots was paralyzed by an injury—in her case, a bite from a dog when Scoots was just an infant. You will be Scoots's very first sponsors, and you can meet her by clicking here.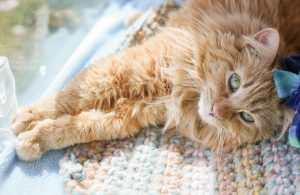 If you'd prefer to choose a different cat to sponsor, you can meet them all here. Please feel free to email us if you'd like to transfer your support to a different kitty. (Otherwise, going forward you will receive updates on little Scoots each month.)
Thank you again for your kindness and generosity to Pixie. You've helped to make this marvelous news possible for her, and we're so grateful!
Your correspondent,
Stephanie