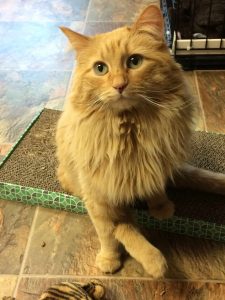 Hello, Pixie aficionados! Ready for a monthly update on our girl?
Miss Pix was enjoying a recent lazy Saturday afternoon in "her" window box when her repose was disturbed by a sudden influx of people; we were having another of our monthly volunteer orientations. Fortunately, we know Pixie well enough to realize that any loss of sleep was more than made up for by all the attention she received from the humans after the orientation. People are naturally drawn to her because she's so beautiful and has such a sad backstory, but what keeps them coming back is her wonderful personality. Our orange charmer was delighted by so many individuals petting and exclaiming over her.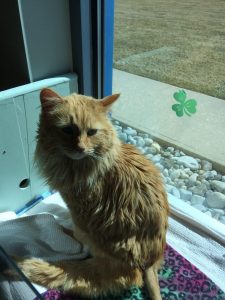 The Aged to Purrfection Program, which began with Pixie, has expanded to include two more senior communities. Pix, of course, remains one of the leading lights of the program; it isn't every day that we have a feline ambassador with such star quality. We're so happy that more seniors will get to meet this sweet feline!
Medically speaking, there isn't much to report this month. There was some concern a few weeks ago when someone reported that Pixie appeared to be moving more slowly than usual. Now, that could be indicative of any of a number of problems, and our vet team hastened to check our girl thoroughly. They could find nothing wrong, and Miss Pix has since resumed her zooming at top speed (especially when trying to get out of the Community Room!).
Thank you for your help in keeping Pix comfortable and content.
Your correspondent,
Stephanie