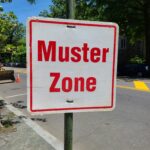 I have no idea what this sign (spotted in Princeton) technically means (and I'd rather meditate on its mysteries than Google it; some questions are better than answers).
But I know this: life is a Muster Zone.
Every morning, we have to muster up our courage. This is as true for the cats as for you and me.
The great light-force known as
Doby
once made himself a home in the Muster Zone. Belonging to no one, he was tossed like a tortellini outdoors, injured and insulted and infected with FIV. He mustered up the mettle to make it from day to day, and each day was a dozen years long.
But things changed quickly, as things do when we're not paying attention. Doby was rescued by an actual angel — you can check her driver's license, it's true — and nursed back to health from injuries and indignities. At last, he was delivered to Tabby's Place like the world's most precious pizza.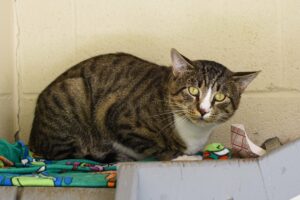 Life had gone all glorious, just as swiftly as it had once turned awful. Doby had reason to rejoice.
But here's the trouble: spend too much time in the Muster Zone, and you forget how to raise your head and see the sun.
Even here, in the pantheon of Panthers Most Treasured; even now, with his steadfast angel and his fresh entourage of adorers, Doby was fear-dusted, worry-crusted, busting his own heart as he mustered a courage that was no longer necessary.
He'd gotten so used to keeping his shoulders down, the sunshine in his eyes was almost too bright.
Almost.
But a funny thing happens when life gets glorious. (Let the reader understand: life is always in the business of getting glorious, even when the whole business feels like a burlap sack of Sad.)
You remember that you don't
have to
muster up your courage.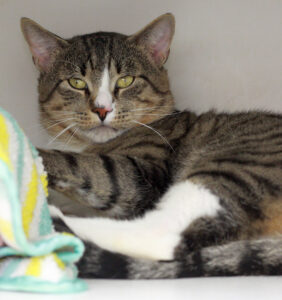 You get to muster up your courage.
You get to muster up your wonderment.
You get to muster up your mettle and your mercy and your sense of the miraculous.
And we all get to muster up each other, so no one has to muscle through life alone and afraid.
It was this final mercy-mustering that scraped the misery-mustard from Doby's frankfurter. The dust and crust and bluster of fear were ultimately no match for the zany, zealous zone around him.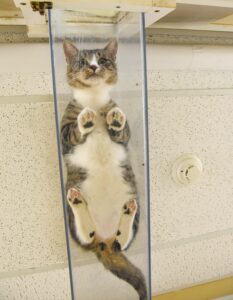 Doby softened first for his angel, who visited several times a week, contorting herself on the solarium floor, stretching to the top of the ramp, slathering the worry-eyed cat with unconditional love. Hers was the love you can't lose even if you try; the kind you can't scare or annoy or offend or weary away.
It was Doby's angel who first saw trust mustering through the thorns, ivy through the permafrost, glory through the fog.
But love begets love, and Doby was now in the zone. Next thing we knew, he was head-bonking humans he'd once feared mightily. He was keeping company with cats he'd considered questionable. He was loving and living and leaning his full strength into the full light of day.
Now he could concentrate his courage on the absence of pizzas and frankfurters.
Fear was not gone, alas. Like love, like stars, like the Rolling Stones, fear will be with us until the time beyond time. But the longer we live, and the more love we tuck in our knapsacks, the more we can muster up a good sense of humor about it all.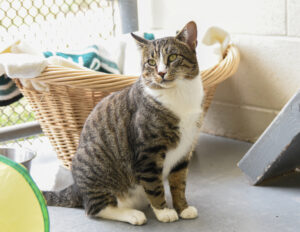 So, we will tremble like embers when the power goes out or our person gets angry or our cat starts coughing in a way that really doesn't sound right at 3 am.
So, we will have to walk into boardrooms and bedrooms and darkened chambers of our own minds, armed only with memories of everyone who ever loved us.
So, we will encounter some hurricanes and heart-smashers and horrid-smelling cheeses and hateful smirks that should be smiles.
We get to muster up the memories of all the angels who have ever healed us back to wholeness.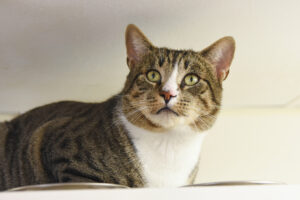 We
get to
muster up the reminder that the world is full of healers, and heart-huggers, and honeycombs, and holy folks in brilliant disguises, and hibiscuses the size of your head.
We get to muster up the courage to reach for people reaching for the light, and reaching for each other, and reaching for the courage to turn their own smirks back into smiles.
We get to bluster our way into the arms of friends and frolickers and freewheeling freaky people who can't wait to fill your life with color and music and the safety of being seen and known and loved for your own freaky, freewheeling, hibiscus-bright self.
We
get to
muster up the granite truth that, as long as there's light in our hearts and breath in our lungs, we all have the opportunity to build a community of love around us.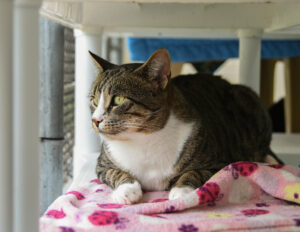 It's not a matter of luck.
And ultimately, we get to muster up the memory that we're not the ones doing all the mustering, anyway.
Doby's not the only one attended by angels.
Fear not life in the Muster Zone, kittens.
More Blog Posts