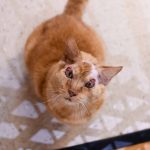 Buongiorno, kittens.
Just when your patience for my prattle might be wearing thin, I'm thrilled to present you with a grand surprise: an update on Tabby's Place alumnus Inigo Montoya.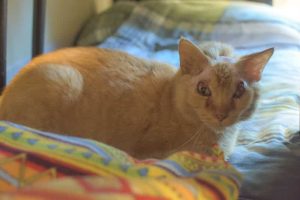 Surely you remember our great marmalade man, that inconceivably adorable office mate of Jonathan's. Since being adopted, Inigo has become "Rocket," and he's now an orange astronaut of intergalactic love.
But don't take my word for it. Here's what Famiglia d'Inigo has to say:
"In these stressful times…we look for little escapes.

Laughter, love…joyous things.

And no one is more unaware of the troubles of the outside world than Rocket. He doesn't need to, not anymore. His only troubles now are the lack of never ending treats…and the fact that, when he gets some, he has to share with his fuzzy brothers and sisters.

I hope this video of Rocket brings just a moment of no stress, a smile as goofy as his, and a feeling in your heart that can only match how fuzzy and warm Rocket is. Hope the staff and residents are fairing well these days, and give them all an extra scratch from PA."
Yes, kittens. They sent a video. Brace yourselves; bliss awaits:
May the mirth of one marmalade cat send your spirits skyward today, if only for a moment. Even in the time of quarantine, joy is on the loose.
More Blog Posts