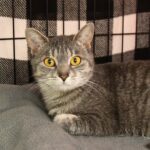 What if you just can't do it?
What if you just can't ruin your life?
Take it from Melee: cats would never even think in these terms.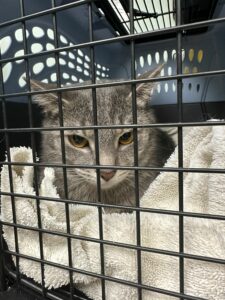 Oh Melee, Melee, most aptly named cat in the annals of Tabby's Place! How shall I describe you?  Who would dare to define you?
You are such a watercolor dream, your gossamer grey is nearly lavender.
You are such a technicolor screamboat, your very tendons are neon.
You were found by someone kind, but instead you think you were found out. From the day you arrived, raging in your "feral recovery cage," you have acted like a jaguar unmasked, livid that soft living should underestimate your wildness.
Melee, Melee, we do not underestimate your wildness.
How shall you learn that you've scowled into the citadel of feline admiration, where we see infinity under every stripe?
How may we convince you that you've conquered all the worlds, and Tabby's Place is your bounty?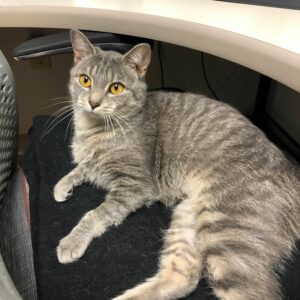 You love life with magentas and chartreuses, crescent-moon claws that climb our legs en route to the stars. You are having the time of your life. You are having a hard time fitting all your plans into the paper bag of each day.
You are having human fingers for snacks, and I have a strong suspicion you would do this even if we offered you quail.
But you, Melee, Melee, lilac light-force, you quail from nothing. You engage in combat merriment, volcanic even when sleeping, tyrannical over your space and our space and the space-time continuum.
You fear little.
But you do not fear nothing.
There's a check in your spirit — ever so swift and quickly stuffed beneath lasagna-layers of lava — when you glimpse the glum.
If there's one thing you can't stomach, little iron woman, it's the sludge of the trudgers, the haplessness of the humans.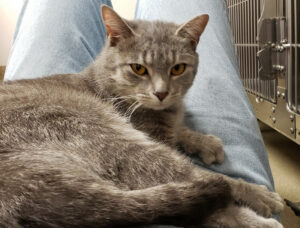 How do they look at their lives, all lemon-yellow and limelighted, and see grey?
They are heavy when they should fill the sky, worried when they should be windswept, grim when they are — even you can admit this — glorious glow worms.
So you bite them to awaken them.
If coming inside, moving headfirst into a monsoon season of mush, didn't ruin your feral life, why do these gangly gruel-slingers think theirs are so fragile?
They worry they will choose the wrong major, or the wrong spouse, or the wrong combo at Chipotle.
They worry that tomorrow will come with sharp teeth, or that it won't come at all.
They worry that they can ruin everything, and easily.
They worry you, because you love them.
Melee, Melee, you could laugh at us, or write us off, but instead you bite us, which is what love looks like from a lavender screamboat.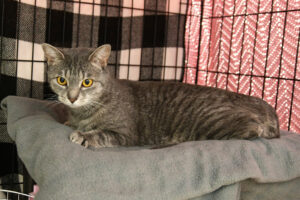 You did not intend to be here, and you will not bend your decrees here, but you're learning to blend your past and your future, your drama and your dreams, your pastels and your punk rock, in a fuchsia fusion that is more fun than even you reckoned.
The life you didn't want conspired with the life that didn't love you, and now they're painting the town plum.
How will you break it to your own ego that you're learning to love it here?
How will you break it to us that our own futures are sturdy?
How can sweetness shatter when it's a renewable, radiant, riotous red resource?
Melee, Melee, you may not have all the answers.
But, little purple poet of manic power, you have our whole hearts.
More Blog Posts