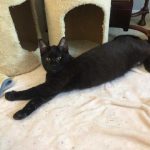 Volunteering at our beloved sanctuary is a treat and privilege.
Service to the kitties is its own reward, but it doesn't stop there. Cats give back.
They demonstrate their affection with purrs and rubs. They show off their agility in leaps and bounds. And, just because they have so much of it in all the ways, they show off their beauty by being magnificently photogenic. Also, asanas.
Cats adopt poses that stretch belief, even for yoga enthusiasts. They move their bodies into such positions that "yoga cats" has become a meme. Having so stated, let the gratuitous cat photos commence.
More Blog Posts