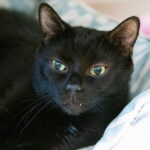 You've heard their names before. They are sung from the rooftops. They are shouted at all the stadiums, including the Colosseum.
Their names ring like bells chiming from all the cathedrals in all the world all at once.
One of the Lords of the Lounge is the ultimate love bug of Tabby's Place, and his name is Fenek. If you have a lap, Fenek will sit on it. If you have a sandwich, Fenek will want to help you eat it (or inspect it to determine if he is interested in helping you eat it; PB & J is a non-starter).
If you are so fortunate as to be the person Fenek chooses to sit upon at a given moment, be warned. He will leave you to go visit every other person who comes into the lounge. Be not dismayed. If you are his first choice, just like Arnold Schwarzenegger, he will be back.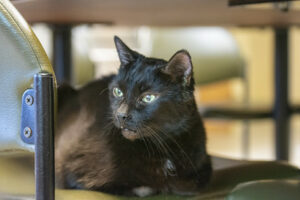 Another of the lords is Shifty. As a knight-errant, Shifty is loyal to all those whom he loves. Being one kind of the truest of Tabby's Place cats, that means he loves every staff member, every volunteer, every donor, and every supporter with every iota of his chivalrous heart. (Shifty is, admittedly, a wee bit more fond of those who bring his meals.)
A more recent addition to the ranks of lounge nobility is the lovely lady Rashida. With her magnificent sweetness and stunning, swooshy beauty, she has swept the sweepers (and scoopers and feeders and directors and everybody else) right off their feet.
Enjoying her golden years, Samantha has far more experience at lounging and ladyship than her roommates. Samantha also has a fancier throne. Samantha also expects her fellow lords and ladies to maintain a respectful distance, lest she be displeased. Further, Samantha insists her food be served in bed promptly at mealtimes and attention to be provided on demand as she deems appropriate.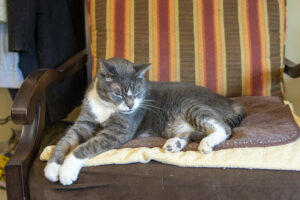 Baby, on the other hand, is a less demanding lord. As with all knights of valor, Baby has known his share of trials and tribulations. He has crossed swords with diabetes. He became a Tabby's Place cat due to his need for the necessary medical attention. Even so, Baby is unlikely to lord anything over anybody for any reason, except when he does because he is, after all, a cat and, therefore, deserving.
Samantha and Rashida are ravishing. They relish their time (on opposite sides of their shared space). They relish their admirers, who are plentiful. Each of these dainty ladies is sweetness incarnate. Each is as much treasure as treasured.
Both Baby and Shifty, on the other hand, are anything but dainty. They often seem larger than life. Each merits the attention that is lavished upon them by all who know them. They guard the door, ready to spring into action at the possibility of dinner or pets or treats. Each is content to curl up for long naps and while away lazy days trusting that they are cherished..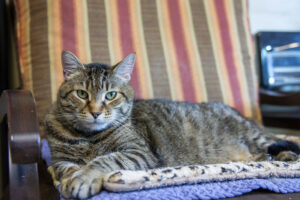 As for Fenek, not even Sir Galahad was as pure of heart or of purpose. No gentler spirit exists in any other creature (though there may be some who are his equal). No softer heart could welcome attention from a more diverse group of adorers. Even his heart disease cannot and does not limit the amount of heart he shares with all who know him.
Life for these furry lords and ladies isn't always easy, not even within the realm that is the lounge at Tabby's Place. Due to their diabetes and other medical issues, they each have special challenges. But, being Tabby's Place cats means that even the hardest stuff will be made easier than it could possibly be anywhere else. It means that no battle is ever faced alone. A cavalry (minus the horses; weird, right?) stands at the ready to run down any foe. Squires stand at the ready to be dispatched at need and at speed to ensure that no lord or lady, neither knight nor dame, fails to have everything necessary and desired (with understandable limits on fish mush).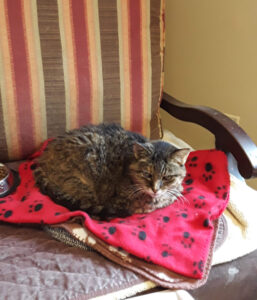 Tabby's Place is their castle.
The windows suffice for turrets. The chairs are thrones (of course there are many!). The cat trees are battlements, and their united goal is to give and get all of the love (and all of the snacks) possible.
The courtiers in the lounge at Tabby's Place live amicably (mostly) together with their weapons sheathed (clipped on a regular basis) and their bellies full. They each seem content with their lot in life. Each one — Fenek, Samantha, Shifty, Rashida, and Baby — has earned a splendid and comfortable retirement (some earlier than others). Their lances have been laid aside, for there is no need to joust (usually). Their swords are oiled and stored. Now is the time for them to enjoy the spoils of the battles that won them their accolades and places of honor. Individually and collectively, they have earned their proper titles as Ladies and Lords of the Lounge.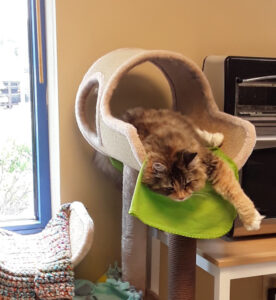 More Blog Posts