Six years after Hunterdon County became my home, Tabby's Place opened its doors on the site of a formerly-abandoned cornfield situated just six miles from our house. Six years ago, I answered the call and signed on to volunteer at that sanctuary, helping to continue the realization of an amazing vision. Six weeks ago, we all came together to witness the ribbon cutting that represents the continuing, expanded, ever more loving mission that donors across six continents have made possible.
As my bubby (grandmother) would have said, the dice keep landing on boxcars. That is, both rolled dice land with six pips facing up. In the game acey-deucey (a variant of backgammon), rolling boxcars allows the player to move four pieces six spaces each, then the player gets to roll the dice again. It's a very big move.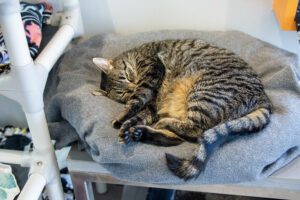 The move into Quinn's Corner was exactly like rolling boxcars. It was a really big move that has set up a big win for the player. In the case of Tabby's Place, "the player" is all of us, with founder Jonathan Rosenberg, leading a conga line of staff, volunteers, donors, and fans. Unlike a board game, we don't have to wait to see how the game plays out to know who will win.
Really, who wins at Tabby's Place? The cats, of course. Yet, they aren't alone in the winner's circle. All of us surround them, again with Jonathan at the fore. We are all in the game, ready to roll, and ready to bring each cat home, whether home is forever at Tabby's Place or in a forever home with a wonderful, adoptive family. That is a really, really big, winning move.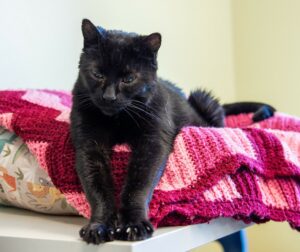 The thing is this, though: nothing at Tabby's Place is a game. Taking care of cats from hopeless situations is serious business. And, with all due seriousness, it is really fun too. It's fun to interact with cats like Hazey, who are very sure of themselves, not entirely sure about their suite situation, and who do enjoy a cautious pat (Hazey sports an orange collar) and a treat…and fish mush. Everyone who sees Fenek (and maybe holds him during the course of their lunch while trying to avoid ingesting his fur) has fun trying to decide if he is more werewolf, vampire, or witch. In fact Fenek is a bewitching combination of all three because…cat.
Not convinced?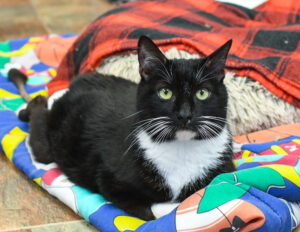 If you're looking for a good time at Tabby's Place, just check in with the kittens and younger cats like Oasis. She might be shy, but she'll show you how joyous a cat can be, if you'd only stop by with a wand toy…and maybe a little bit of fish mush. A little more daring and also darling, Kilo is taking Suite E by storm, by hook and by crook, and every which way. Roll a ball? Off he goes! Swing a wand? He's a grabby Gus. The fun won't stop until Kilo passes out on a cat tree, but his playmate will leave with a giggle and a smile.
Still not convinced?
What of the cats whose medical challenges are supposedly unsurmountable? We surmount them. That comes with rolling boxcars. We get to pamper cats who may not romp, but who lift our hearts. We get to snuggle cats like Antin, who are curious about everything, especially what each and every lap is like to lie in. Being fashion-forward, he inspires us to check our own closets and to keep up with everything going on in Paris and Milan.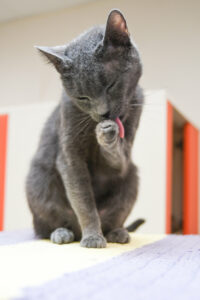 So, maybe the business of caring for cats is no game, but it is definitely a laughing matter. Watching Xena spring about chasing toy mice is hilarious. Allowing one's voice to fall on Lost's literally deaf ears is hysterical, even if Lost misses the punchline. And, what about when a feral like Hashbrown flips his switch? "Squeeeeeee!!," is the word, but it is best kept to an undertone until the switch is firmly resettled. Laugh like no one is listening later, but definitely do laugh from the pure joy of the connection.
For those of us lucky enough to work and volunteer at Tabby's Place, laughter is a necessary part of what we do. It reminds us of how lucky the Tabby's Place cats are. It reminds us of how lucky we are to know them. It reminds us of the importance of this amazing organization and of the connections we build there. As for me, I might be the luckiest of all. In addition to Sunday Reception followed by socialization with as many cats as I can make time for before getting pushed out the door at closing, I often roll several sets of boxcars in a row during a game of acey-deucey (I also roll acey-deucey rather a lot). Yes, that's even after shaking the dice extremely vigorously in their cup. For me, just as for Tabby's Place, things just keep on coming up boxcars.
More Blog Posts