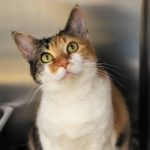 You may have heard reports of a recent luring.
Don't believe a word. Persons were indeed allured, but no luring was required.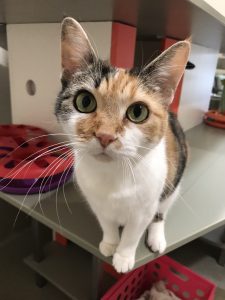 That's because the non-lurer in question was one Luro Rosenberg.
When you step into the Land of Luro (currently doubling as the Kitten Room), you will immediately understand. Luro is a calico of uncommon caliber, and she will call to you and croon for you from the moment she beholds you.
And make no mistake; Luro beholds great beauty in you. She frankly can't take her eyes off of you, so enraptured and enchanted and allured is she. If you enter the Land of Luro feeling lousy, you will surely leave (if you can ever bring yourself to leave) feeling golden and glorious.
All because you were beheld by one Luro Rosenberg.
What we have on our hands here (and in our arms, if Luro has her way) is a cat who knows how to love. And this is no air-popped, ethereal, conceptual kind of love; Luro loves with intention and intensity and gusto and oomph. When she's loving you, she is focused entirely on you in all your you-ness. No other cats or humans or black holes exist; Luro is locked on you.
And you, my friend, are surely allured.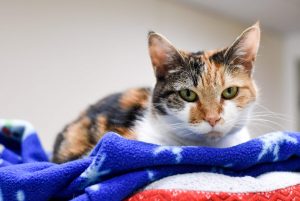 As you can see, Luro needs no special pyrotechnics to make herself precious. She is more beautiful than all of springtime's tulips, with a musical voice and the classic feline graces that make our favorite species a favorite of artists and poets, too. But even if Luro looked like Gritty and smelled like gorgonzola, she would shimmer with beauty. She knows — or at least, she lives the fact — that the way to be most lovable is to love most lavishly.
If you would be loved, love. Preferably with oomph.
If all you did today was love like Luro loves, you were victorious. And so Luro rests easy even as a forever home eludes her, knowing she's done all she can, fulfilling her calling and calling us to greater heights. In a sad irony, the cat with the colossal heart also has heart disease. Although it's mild enough to need no medications, and she's otherwise young and healthy, it puts her in the "slight Special Needs" posse, in limbo between "eminently adoptable" and "seriously Special Needsy." Like her roommate and fellow Baltimorean Lex, Luro will need a family who's OK with a little uncertainty.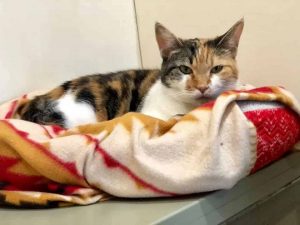 But frankly, they — we — all need love that's OK with a little uncertainty.
Anything can change in the flash of a whisker.
Everyone has "special needs" of some shape or sort.
Only love is guaranteed.
Take heart; love is guaranteed.
More Blog Posts