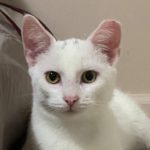 There's a reason we can't see 10 years or 10 weeks or 10 minutes into the future.
There's a reason we can't extend our legs 50 feet, all telescopic and stretchy, to "make time."
But we're unreasonable beasts who still think we can get ahead of ourselves.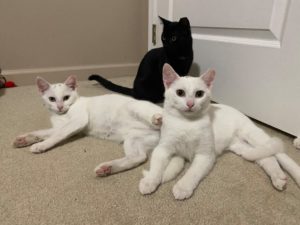 For instance: I wrote you "Boys in the band" long before (a) major decisions were decided by humans coast to coast and (b) some stellar human donated an N'Sync towel to Tabby's Place. (Yes, I'm still talking about this. Yes, it was a high point in Tabby's Place history.)
Surely I would have accounted for such colossal developments, had I known they were coming.
But I didn't know.
You didn't know.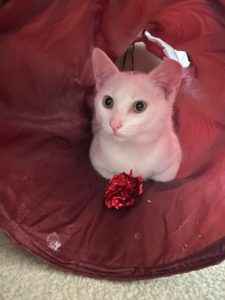 And we weren't supposed to know, until the time for knowing came.
Cats and children and mystics are quite content to waft in the cloud of unknowing.
But we "responsible adults" and argonauts and other simple life forms still want to know.
We want to know that Sophia will continue to survive and thrive despite the dire diagnosis she was given so many moons ago.
We want to know that Hobo's enlarged spleen is just a side effect of his ever-enlarging ego, nothing sinister, nothing scary.
We want to know that Manicotti, Rotini and Pappardelle, those trembling baby boxes of Barilla, will fully give themselves over to love…and be given forever homes worthy of their pastacular wonder.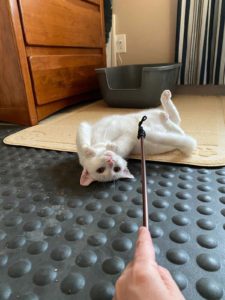 We want to know that Bucca, approaching age twenty, will reach age forty and far beyond.
We want to know that even if this holiday season is hollowed-out, all Zoom-y and distanced, what remains will be what we needed all along.
We want to know that the old refrigerator will keep working, and the old friendships will hold steady across miles and months and missed hugs, and the old certainties won't all give way.
We want to know that good things can still surprise us, N'Sync towels and clinical trials and wild feats of unity.
We want to know that the vaccine will work, and work its way along quickly enough that the world will work according to our plan again by St. Patrick's Day, at least.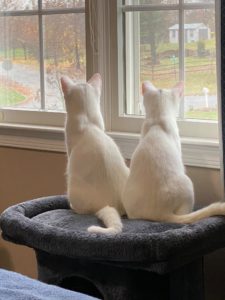 We want to know that there will be peace in the valley — not that one, this one, right here, right now or at least now-ish.
We want to know that we will always, somehow, be OK.
As it turns out, we can know that. We just can't know the "how."
We've seen and felt and had to digest so much ugliness in our lives, individually and collectively. Whoever you may be, as you read these words, I know you've been through a lot.
And here you are. Here we are.
We know enough to go on.
So we'll tremble on together, like so many shy, stubborn strands of angel-hair all tangled in a bundle of hope and mystery.
And in the face of all we cannot see, still we will feast.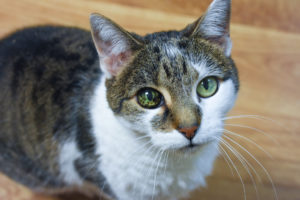 More Blog Posts