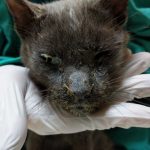 I've been thinking about Roadie.
You haven't been thinking about Roadie, but that's about to change.
Roadie, otter-sleek and secret-grey, came to Tabby's Place on February 20th. Emaciated, hypothermic, his bent bony body shadowboxing its own kidneys, Roadie was the kind of cat in whom we specialize.
But, as in the Boyz II Men classic "End of the Road" (of which I could say much, including the fact that never ever has there been a more romantic and evocative masterpiece, but I shall not), "the end of the road" is rarely the real and true end at Tabby's Place.
Ghosts grow flesh.
The three-quarters-dead rise again.
The road rises up to meet hopeless wanderers, patting them on the newly-rosy cheeks and saying, "welcome home, now have a hot meal or twelve."
Except when it doesn't.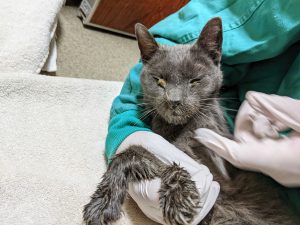 If love and stubbornness could have saved Roadie, you'd have read about him long before today. Our vet team worked their wonders; our favorite local specialist Dr. Fantastic was enlisted; we even made frantic phone calls trying to track down the mysterious microchip between Roadie's sharp shoulder blades (could he have been owned, known, loved?).
What Dr. Fantastic found was even more stubborn than our love: Roadie was riddled with late-stage cancer. To keep him going would be to court cruelty. We let him go.
His memory has not let us go.
His memory, these many months later, is a blessing, a fire that grows brighter even as the image of his gaunt grey face fades. Roadie came and was held, and he stayed just long enough to remind us who we are.
We are Tabby's Place, a way station for angels in disguise.
We are the ones who've been asked or graced or commanded to see the unseen, to wrap our arms around the oddballs on the edges.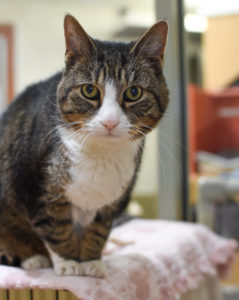 We are a humble, speckled and striped axis mundi — the mysterious invisible line connecting the living and the dead, heaven and earth, slicing right through the veil — for cats who glimpse our lighthouse and find themselves drawn home.
For Roadie, life came in the midst of death. Irrevocable love was the last thing he knew on this earth, and that would have to be enough for all of us.
Somehow, always, it is enough.
Many years ago, I used to see a tiny advertisement in a local newspaper from a storefront church. It couldn't have been more than a 2″ square, and it pictured the pastor and his wife, their enormous brown eyes staring straight into me beneath the words, "We will love you with all the love we have to give." Obviously they had a lot. They were doing something very right. The mere fact of their existence gave me a warm peace.
I think of them, and I want to live a life that stares straight into the Roadies I meet on the roadside.
I think, too, of our adopters, angels unawares, eviscerating us with their easy kindness and secret heroism. I think of the beautiful couple who adopted Harlem mid-pandemic. Harlem! Ancient and pre-owned and unceremoniously returned. Harlem! Slovenly and senior-plus and sleepy and sweeter than all the maple syrup in all of Vermont. Harlem! Too old to offer too many years, guaranteed to break the beautiful couple's hearts too soon.
And so he did.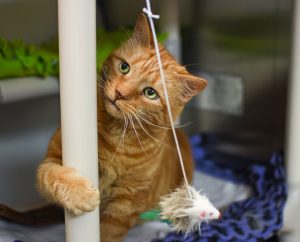 And they did not regret for one hour opening their home to the jubliant ancient kid, for this is what it means to be beautiful, to follow the road to Harlem and heartbreak and the wholeness that comes no other way.
I think of the cats who are very much still with us, the ones who, in their lively murderous insanity, are more of a challenge than the short-lived sweethearts. I think of Siesta's fits of rage, or Indiana's felicidal tendencies, or even lovable Mahi-Mahi's attempts to mince our fingers like Vienna sausage.
They were all placed on the road to Tabby's Place for a reason: their good, and ours.
Like every cat who crosses our threshold, each one is held by our most axial axiom: you cannot render yourself unlovable, no matter what you do.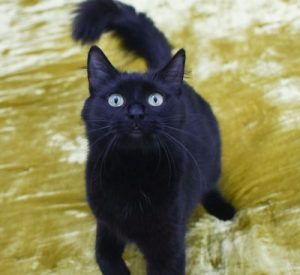 No matter how much you need.
No matter how much you rage.
No matter how much you pretend to reject our love, no matter if you cannot be saved in the usual way, no matter how long or how short you are ours.
And maybe, one of these days, we'll recognize that the road has risen up to meet us, too. Maybe the axis is tilted ever so kindly towards us. Maybe, through the thin thin veil in this thin thin place, Roadie remembers us too, and he's singing us onward.
As all wise creatures know, not all those who wander are lost. Roads go ever on.
May we be the righteous roadhouse where every vagabond can drift off peacefully on this pillow: we will love you with all the love we have to give.
Until we meet again, Roadie.
More Blog Posts