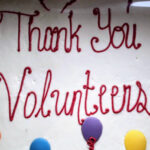 Editor's note: You will observe, observant kittens that you are, that your regularly scheduled Kitty Le Fey Wednesday post no longer bears the preface "Guest Post."
Kitty, intergalactic volunteer and writer of celestial proportions, is no guest.
She is, to the contrary, the best. She is also here to stay.

So in celebration of Kitty's continuous coolness, Wednesdays shall henceforth be Kitty's Cosmos. Step into the starcluster of her steadfast love for the cats. — XO, AH
Maybe you've heard the song, maybe you've seen all the images that come up in an internet search.
Either way, it seems (at least in daydreams and for the very most rare among us), that teddy bears enjoy their picnics.
Picnics are the song of summer, of riparian (fancy word for "stuff having to do with a river;" neat, huh?) entertainments, of basking in sunshine amidst fields of flowers, too tired and too overstuffed to move. Picnics are also the perfect excuses for family reunions, pick-up games of basketball, planned games of croquet, and to eat ambrosia and coleslaw side by side on one plate, and get grass stains on a brand new pair of white shoes.
Picnics are also the perfect venues for celebrating each other.
At this, the Tabby's Place staff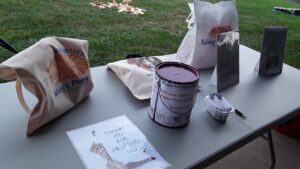 excels.
Each year, usually in late summer, they invite the hardworking hordes of volunteers to a picnic where we, the volunteers, get a break from doing the work and get to enjoy being feted on savories and sweets, catching up with those we know, meeting those new to us and new to Tabby's Place, answering trivia questions, listening to speeches in which we are lauded and loved and reminded of all the many things that make Tabby's Place so special, including us, including our President and Presider of Picnics and the Personnel of Perfection who make sure it all happens.
The annual Tabby's Place Volunteer Picnic has taken on a greater level of importance this year, and not just for the 2-year, COVID-related gap since the last. As Tabby's Place grows, so too does the size of our force. It's heartening, it's happifying, it's heady, and it is all the ways good to see new faces among familiar faces. It's uplifting to be reminded so viscerally – through sight, sound, and scent – that we individuals form a group united by purpose: saving cats (and maybe ourselves just a little bit too).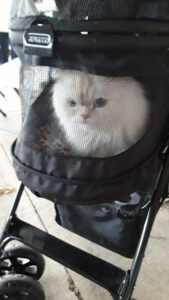 This year, it was extra special to have "Cotton" return for a visit. (NB: His forever family has given him a new name, which will remain secret out of respect for their privacy. However, "Cotton" would like you to know that his favorite short story is The Black Cat and his favorite poem is Ulalume, but neither "Cotton" nor I can confirm or deny whether that information is pertinent. Our friend, returned to us for the day, was strolled about by the Queen Stroller herself. He lolled in the grass. He soaked up oodles of love and hugs. As always, "King Cotton" was a quasar, dazzling us all with his brilliance.)
All the while, at the far end of the pavilion, Anka was ablaze in his own glorious light, and completely enjoying the picnic. Well, maybe not the picnic precisely, but Anka was certainly enjoying his custom-made enclosure. Our Turkish delight was content to accept the doting attention of picnickers. He also had the opportunity to "hunt" the birds that flitted about, safely at a distance yet tantalizingly close. Anka also was momentarily entranced by a bag of hot dog buns that was unwittingly dangled in front of his nose during an attempt to get a quality photo. No hot dog buns or cats were harmed during the attempt.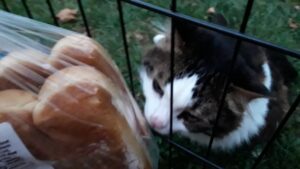 As with all things Tabby's Place, the 2022 volunteer picnic was well-organized and carefully planned right down to the perfection of the weather itself. Despite still being August in New Jersey, the temperature was pleasant, the rains stayed away, and the air was comfortable. Ice cream and good will were in equal abundance (in both cases, exceedingly), and we were reminded of the value of ourselves and of picnicking.
Take this personal recommendation for what it is and as you please. But, you might find it fun and revivifying to do what we at Tabby's Place do once each year, with no worries and with eager anticipation of the sights that may be seen. Go into the woods, don't bother with disguise. Pack your picnic basket. Bring your companions and maybe some games. Find a glade, and go fete yourselves! If you do come upon the teddy bears at their own picnic, maybe you can join them.
More Blog Posts