Everyone who has ever lived has had a bad hair day. Everyone who lived through the 1980s had a bad hair decade. For the record, I was very proud of my fairly long mullet, which was most punky when paired with short spikes on top. (No, you may not see a picture. No one can ever see a picture. There isn't even a picture. Nobody said anything about a picture. What picture?)
My husband held onto his mullet until he entrusted me with a pair of scissors to snip a wayward curl in 1997. Moreover, we have a friend who has yet to wave farewell to his mullet, but he has that rare Einstein-y thing going and somehow manages to pull it off…maybe because it goes with his tattoos. Besides, here on the cusp of 2023, mullets are back in style. Unsurprisingly, the trendiest, coolest, and very most bestest Mullet of all can be found at Tabby's Place.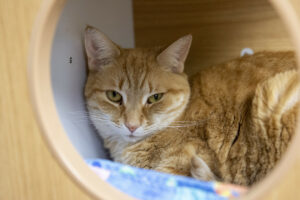 Suite B has been the primary residence of some amazing kitties over the years. Current classics include the likes of Sunflower, Olivia, and Cleopatra. Newer arrivals to the suite include Magda and Clementine. But up on top of the ramp to the solarium, a very recent addition can be found hanging out with his new friend.
Climbing up a ladder will put someone at visiting level with Juel. Care for a headbutt? Pet Juel. Care for a licked wrist? Scritch Juel's belly (Yes, he's one of those!). Care to double the fun? Pet Mullet at the same time as Juel.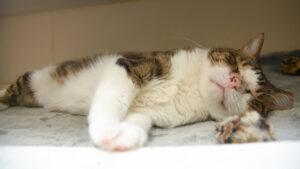 These two cats have formed a band that keeps churning out the hits. Tears for Fears and Wham! never made such great music together as the dueling purrs that Mullet and Juel produce. The harmony these boys have created together even puts the Eurythmics to shame. It's also a shame that there isn't a hall of fame that will induct them for whatever it is cats might ever have a hall of fame for (Okay, it would be for everything cat with special recognition for brilliant bleps and tremendous toe beans).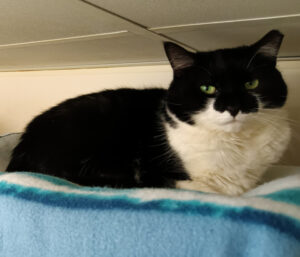 In truth, the halls of Tabby's Place are more than sufficient for lauding and loving a cat like Mullet than a grandiose museum-y thing could ever be (cats are more rock 'n roll than even the best rockers anyway). Crowds of volunteers, staff, and visitors make the biggest fanbase a marmalade dream could ever hope for. Maybe the fans are less outwardly rabid than the masses of screaming tweens that accompanied either the original British Invasion from the 1960s or the cleverly named Second British Invasion of the 1980s. Nevertheless, adoration abounds, and it's more lasting than the fleeting love for pop heroes.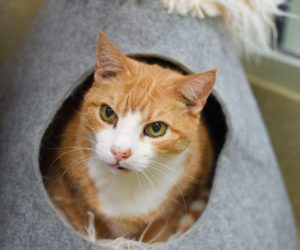 Plenty of overplayed (some deservedly so) bands melted the hearts of 11-year-olds across the globe. Riding in with The New Wave, groups like Duran Duran and Culture Club reached every shore. Local to Ringoes, NJ and for the better part of the past two decades, Tabby's Place has brought us wave after wave of cats to love, send off to forever homes, and to care for each and every day. These aren't the faddish waves of 1980s music or surfer movies like Fast Times at Ridgemont High.
The waves that flow through Tabby's Place have a unique rhythm, and they are timeless. Nobody will look back at pictures taken of the Tabby's Place cats and wonder who inspired a questionable haircut (Some of us giggle a bit when reminiscing over A Flock of Seagulls and Limahl.) even when sporting the likes of Madonna's and Cyndi Lauper's wild hair. Sporting a much less dated hairdo and amped up with sweetness to beat the band, there is no question that Mullet will remain a classic for all time.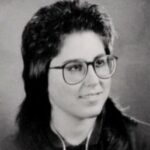 More Blog Posts